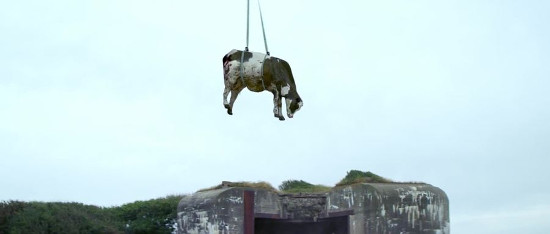 At first, the county police officers in the French countryside think the murdered woman was stuffed inside the bovine's stomach through its anus.
Soon another dead cow surfaces on the beach with blood oozing out of its anus.
This time a Black construction worker's body parts are found inside its belly.
Life goes on in the small village near Boulogne-sur-Mer in Northern France.
Apart from the weird funeral ceremony at the church for poor Mrs.Lebleu, the horrific crimes don't seem to make any difference.
All seems normal.
In the picturesque countryside strewn with World War 2 era bunkers, decades-old grenades and cast off bullets, the cows amble daily to the pastures, the farmers continue to groom their White horses and the nasty kid P'tit Quinquin and his pals are still raising hell with their wild, racist, homophobic antics.
The bumbling cop duo come and go in the little blue car, convinced the area represents the Heart of Evil.
And in the freezing waters of the English Channel, just a short walk down the hill Quinquin, Eve and the other kids frolic.
Then comes the autopsy report – of the cows.
The initial conclusion of the County Sheriff was wrong.
Totally wrong!
Mon dieu, the two murder victims actually entered the cow's stomach via its mouth.
Ass or Mouth? – Who Cares!
Now whether the poor murdered woman's body parts entered the cow via its posterior end or from the anterior side matters little to me. Continue reading »