I'm now knowing the smell of death. They are sweet like sugarcane and rotten like palm wine. And when [dead bodies] stay in the sun, they're growing plump like brown mangoes.

– Little Agu, after witnessing one too many deaths as a child soldier
Director Cary Joji Fukunaga has put out no less than a gem in his new film Beasts of No Nation.
Of course, Cary Joji Fukunaga is no stranger to readers of the SearchIndia.com blog.
In January 2010, we reviewed his debut film Sin Nombre and heaped praise upon it.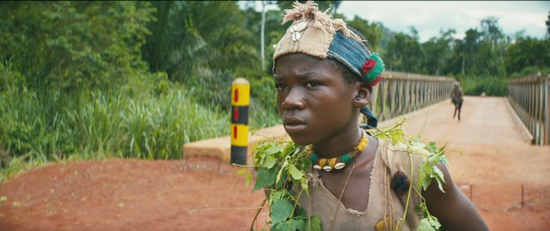 So when we heard about Beasts of No Nation being released today simultaneously in (select) theatres and on Netflix, we jumped at the opportunity.
Beasts of No Nation is based on Nigerian-American writer Uzodinma Iweala's eponymous novel.
Devil in Man
Seen through the eyes of child soldier Agu (Abraham Attah) in an unnamed West African nation, Beasts of No Nation is a depressing, unromantic look at war.
Far too often, war has been romanticized by poets, writers, governments and war-lords. Glorified by those who pay the least price of war.
But the ravages and hideous costs of war, particularly on young souls, and the meaninglessness and futility of fighting is a tale that seems to have few takers either in books or on celluloid.
It's often said war brings out the beast in man but in this film savagery blossoms early in child warriors carrying machine guns and rocket launchers.
When prodded by their 'Commandant,' Agu and his fellow child soldiers do not hesitate to cleave a captured man's skull with a machete and leave him badly bloodied and dying on a dusty road in the hinterlands.
Cary Joji Fukunaga's neat screenplay shows how quickly Agu gets brutalized (and sodomized) and turns into a devil as barbaric as the rest of the rebel group.
Only a short while back, Agu was a happy, mischievous young boy in a happy family.
Civil war has already wrought havoc in the lives of Agu's family and several others who live in the small buffer zone sandwiched between two vast tracts of violence.
His father has lost his job as the school teacher. With school shut down, the kids loiter around peddling junk and scavenging for food from the Nigerian peacekeeping soldiers.
But soon violence comes to Agu's town sundering his family.
After his father and brother are mowed down by government soldiers, Agu flees into the bushes only to be captured by another faction led by the 'Commandant' (British actor Idris Elba in another masterful performance).
Exceptional Film
Beasts of No Nation is exquisitely photographed, carefully scripted and beautifully enacted.
As the child soldier Agu, Ghanian kid Abraham Attah has rendered a jaw dropping performance in what's likely his first film.
One wonders where lambent talent such as Abraham Attah's springs from.
Besides writing and directing the film, Cary Joji Fukunaga also takes credit for the photography.
Beasts of No Nation is playing in select theatres in the US and on Netflix streaming.
An exceptional beauty about the dark rot in Man's soul, Beasts of No Nation is not to be missed.