If history is any guide, Indian consumers will for the most part ignore Microsoft's new Lumia smartphones launched in the country today.
Lumia 510 and Lumia 950 XL, Microsoft's latest smartphones, debuted in India November 30, 2015 just 10 days after their U.S. launch.
The high-end Lumia 950XL (Rs 49,399) has a 5.7-inch screen, 20MP rear camera, 32GB storage, 3GB RAM, Windows 10 Mobile and a Octa-core 2000 MHz processor.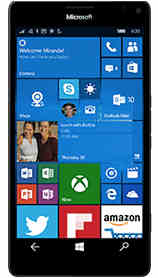 Lumia 950 XL
Lumina 950 (Rs 43,699) has a smaller 5.2-inch screen, 20MP rear camera, 32GB storage, 3GB RAM, Windows 10 Mobile and hexa-core 1800 MHz processor.
Both devices include the Continuum feature that lets users plug either of the new smartphones into a monitor and use their mobile apps on a desktop monitor.
But this cool technology depends on apps being 'Universal' which means Continuum is still within the gimmickry realm and remains work in progress.
Nadella Struggling
But more important than the specs of the new Lumia devices is the outlook for them.
When you consider Microsoft's market share in smartphones, the outlook for these devices seems bleak and extremely depressing.
Despite pouring billions into its smartphone business, Microsoft has fared poorly in this arena.
Consumers have largely given the cold shoulder to Microsoft's smartphones and its close cousin, the Surface/Surface Pro line of tablets.
Microsoft's global smartphone marketshare hovers around 2.6% in smartphones. Surely, the Indian picture can't be much different.
Given the low marketshare, developers ignored Microsoft smartphones despite financial incentives from the company.
Limited app availability increased consumer resistance to Microsoft smartphones.
Since consumer interest in Microsoft smartphones were extremely limited, carriers were indifferent to these devices.
Worldwide, consumers are either flocking to Apple's iPhones or Google's Android devices peddled by a large gaggle of vendors.
Unlike upstarts like Xiaomi that have captured the attention of consumers with attractively priced smartphones with sizzling specs, Microsoft has failed to generate any consumer enthusiasm for its smartphones.
There's little evidence to suggest the new Lumia smartphones will fare any better on exciting consumer interest.
The price is still way high and there're no compelling features for consumers to rush to these devices.
Carrier interest in the new Lumia smartphones has been lukewarm at best in the U.S.
In a couple of months, Satya Nadella will mark his second anniversary as Microsoft's CEO.
The Telugu bidda has been making a lot of public noise about Cortana, Windows 10, Continuum and cloud but seems hopelessly impotent to fix Microsoft's continuing woes in smartphones and tablets.
One wonders how many more billions Microsoft will flush down the toilet before calling it quits in the smartphone and tablet business.