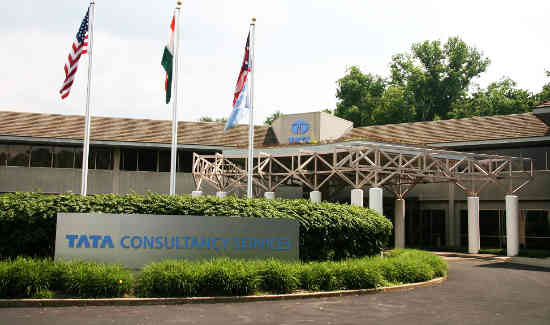 TCS North America Office
When we think of big thieves, Indians invariably think of Bollywood and its smaller siblings Kollywood, Tollywood etc or our cricket players stealing the thrill of a real match from fans by selling out to the betting mafia.
But people don't seem to realize that the really big Indian thieves are large corporations like the Tata group and unscrupulous politicians who steal thousands of crores in scams like the 2G spectrum allocation and Bofors arms deal.
Epic Battle
While it's easy to get away with large scale theft in India because of institutionalized corruption, it's still a little hard to escape punishment for robbery in the U.S.
More so when the victim is an American company and the thief is an outsider.
Indian software powerhouse Tata Consultancy Services and Tata America International Corporation learned its lessons the hard way recently when the jury verdict in a stealing case went against them in a Wisconsin court.
At the core of the Verona, Wisconsin based Epic Systems' complaint against TCS/Tata America is the argument that the Tata companies, while working on a consulting assignment at Kaiser Permanente hospitals, illegally accessed Epic Systems' hospital management software beyond what it was legally permitted to do and misappropriated its trade secrets.
TCS also has a health care software called Med Mantra that it's been peddling to hospitals in India and abroad.
Heavy Penalty
The Wisconsin jury verdict against the Tata companies could be the highest ever against an Indian outsourcing provider.
TCS and Tata America have been slapped with a $940 million punishment for stealing from American software firm Epic Systems Corporation.
The jury ordered the two Tata companies to pay $240 million in compensatory damages and $700 million damage in punitive damages.
TCS, which had $15.5 billion in revenues in fiscal year 2015 and $3.5 billion in profits, will now most likely appeal or enter into settlement discussions with Epic Systems.
But the odds are against TCS/Tata America because the political climate is against outsourcing given the job losses, upheavals in the American economy and the vitriol against foreign companies 'taking American jobs' by politicians like Donald Trump in a presidential election year.
Also, the legal system in any county is never immune to current political or popular sentiment.
What Did Epic Systems Prove
If you look at the jury verdict of April 14, 2016, Epic Systems won a decisive victory and proved several key points.
Here are a few points that Epic Software proved to the jury:
1. Epic Systems proved TCS and Tata America used Epic's confidential information for purposes other than implementing Epic's software on Kaiser's behalf
2. Epic Systems proved TCS permitted its employees with access to Epic's confidential information to consult with other TCS employees concerning the development of TCS's Med Mantra software
3. Epic Systems proved its claim of TCS trafficking Epic's passwords
4. Epic Systems proved by a preponderance of evidence its claim of misappropriation of trade secrets
5. Epic Systems proved by a preponderance of evidence its claim of unfair competition
6. Epic Systems proved by a preponderance of evidence its claim of unjust enrichment
7. Epic Systems proved TCS and Tata America failed to limit access to Epic's UserWeb to employees who needed access in order to perform testing services for Kaiser.
Bottom line, in a philosophical sense Epic Software proved TCS and Tata America are big time thieves and deserved the $940 million (Rs 6,265 crore) compensatory and punitive damages jury verdict against the them.