Bollywood director Rohit Shetty is to classy movies what Donald Trump is to Muslims or ancient Spartans to peace.
You get the point, don't you?
Shetty belongs to the new breed of sub-mental Indian film-makers whose movies are a witch's brew of ear-splitting noise, mindless violence and sophomoric story topped off by a dung-heap of nonsense.
Dilwale is Shetty's latest offensive thunderbolt hurled at movie screens worldwide.
In the spirit of sacrifice this festive season, I exposed myself to the Dilwale plague yesterday!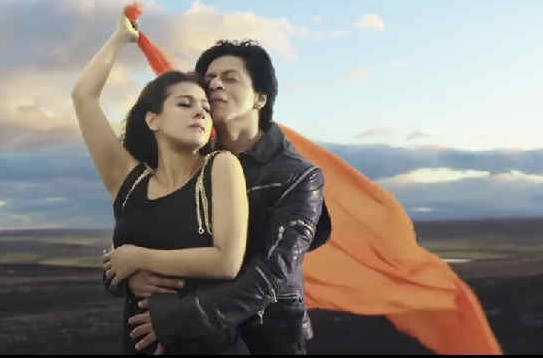 Utter Junk
Filmed in India and Bulgaria, Dilwale is not a romance saga no matter what you may have heard.
Au contraire, it's a silly, scatterbrained misadventure featuring two senior citizens (Sharukh Khan and Kajol) and two squealing piglets (Varun Dhawan and Kriti Sanon).
Since dimwitted Indian movie fans can't recognize Sharukh Khan without his familiar screen moniker Raj, at least one of his avatars in Dilwale must be Raj.
Raj runs a car body shop in Panjim spiffing up BMWs and other fancy cars that his rantipole younger sibling Veer (Varun Dhawan) ruins on wild joy rides with nubile creatures.
In short order, we realize there's a back-story to the bovine-natured Raj as the dreaded gangster Kaali in Bulgaria where his father Randhir Bakshi (played by the late Rajnesh's gardner a.k.a. Vinod Khanna) was a dreaded local don fighting another Indian don Dev Malik (Kabir Bedi).
Who knew Bulgaria outsourced its lucrative crimes to two immigrant Indian dons!
How long before the American Mafia outsources crime to Mumbai bhais on H1B and L visas and supari killings come to Brooklyn, Harlem and 74th St in Jackson Heights.
Kaali's fighting modus op is simple – Punch the opponent senseless five times, kick him once and then leave the battered victim to be further brutalized by his two henchmen bearing truncheons.
In Bulgaria, Kaali is conned by rival don's daughter Meera Malik (Kajol) into falling in love with her before she celebrates her birthday by violently attacking his convoy, stealing his gold and leaving him hanging upside down in the car. A few minutes later, the imbecilic Kaali saves her from falling off a cliff and now it's Meera's turn to 'really' fall in love with Kaali.
Some 15-minutes and one boring song later, the don-fathers of the love-birds kill each other and the young couple part ways for 15 years.
As fate would have it (actually, blame the schmuck script writers), Veeru and Ishika (siblings of Kaali/Raj and Meera respectively) fall in love 15 years later in Panjim.
Oh, Kaali, by the way, is not the real son of the Indian don in Bulgaria, just an orphan plucked off the streets (of Sofia, Mumbai, Tirupati, don't ask).
Such is the fatuous plot one has to endure in Dilwale.
Cretinous Bollywood fans have anointed Kajol as the desi Meryl Streep despite her merely average talent.
Never a beauty in the first place, Kajol is way past her 'sell-by' date. No amount of whitewash on the face, kaajal on the eyes and plastic all over can mask the damage age has wrought on this bonobo with 5-inch heels.
When Kajol struts down an European highway after attacking Kaali's convoy, her whitewashed face resembled Michael Jackson's after the singer's third botched surgery.
If, as rumored, Kajol's 'Singham' spouse Ajay Devgn jumped in the hay with "Bullet Rani" who can blame him.
Despite the passage of 15 years, Kaali/Raj and Meera show no evidence of aging (only a beard and the name Raj distinguishes the before and after Kaali).
The Veer-Isha romance is disgustingly silly and infuriatingly annoying.
This Kriti Sanon thing is so pathetic she can't emote even when yelping out just two words ("Happy Birthday"). That this gruntling too lands roles makes one wonder at the woeful absence of standards in Bollywood.
Varun Dhawan, the third-rate wanker progeny of a second-rate stealing Bollywood wanker (David Dhawan), never ceases to torment.
Drivel Sells
In a movie full of drivel, the Manma Emotion Jaage song-dance featuring Kriti Sanon, Varun Dhawan and a few dozen European imports effortlessly scales the heights of stinking debris.
Of course, my oligophrenic countrymen lap up this sort of vomit on the screen.
At a U.S. theater on the East Coast, a Mallu chatterbox family in the back row and two North Indian clodpates in front couldn't contain their joy.
As I have said so often, you can take all the chutiyas out of India but never the simian passions out of Indians, no matter whether our people drop anchor in America, UK or Australia.
It took a heroic effort not to hurl my new Ecco boots at the screen when subjected to the three hopelessly nonsensical comedy tracks (helmed by Johnny Lever, Boman Irani and Varun Sharma) interspersed with toilet humor.
Since Dilwale is Sharukh Khan's home production, he bears as much responsibility for this merdurinous garbage as Rohit Shetty.
I can't wait to see how quickly Bollywood toadies usher this atrocity into the Rs 200-crore or Rs 300-crore club.
Only in Mera Bharat Mahaan, folks!