After a lengthy break from Indian movies, I steeled myself and headed out to watch the Bollywood film Ki & Ka yesterday.
I will confess to a good deal of apprehension.
The title Ki & Ka, short for Ladki (girl) and Ladka (boy), had me more than a little concerned for my well being.
After all, Indian movies like Kai; Ko; Tha; Ka Ka Ka Po; Kai Po; Ya Ya; I; Ra; and Ooh La La la have had devastating effects on sensitive minds.
Praying to Gods and Shaitans in the three worlds, yours 'sensitive' truly plonked down in an empty movie hall and barely survived the Baaghi trailer. Jackie Shroff's son, Tiger Shroff, is no tiger in the acting department. Not even a pussycat of an actor.
The deserted movie hall should have alerted me to the gathering storm but I've always been slow to pick up warning signals.
Kyun Yeh Bakwas
Sure, Ki & Ka turned out to be different from the familiar Bollywood claptrap.
But not in any classy or enjoyable way.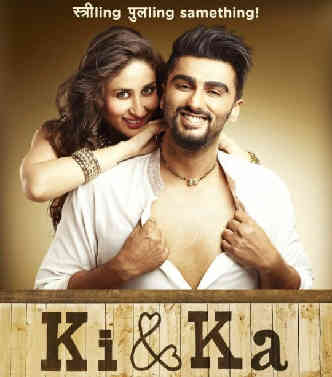 R.Balki (writer and director) is like the irritating classmate in 8th grade who wears his shirt inside out just to attract attention.
So Balki resorts to the outlandish idea of getting an IIM (B) topper and only son of a billionaire builder to declare to a pretty marketing manager Kia (Kareena Kapoor) that he is not interested in joining the family business, hates the idea of aage badna (getting ahead) inherent in the corporate world and intends to be an artist.
Just when you wonder why the management graduate and trains buff Kabir Bansal (Arjun Kapoor) would want to follow in the footsteps of a Hussain, Dali or Picasso, he tells Kia his goal is to become a 'house-husband.'
Kabir's bhashan about how his late mother (a housewife) was a great artist blah blah blah was threatening to push my BS endurance limits.
Off-Beat is Hard
A few forgettable songs, more evening visits to the bar and morning trips to the rail museum later, we are subject to the bizarre sight of Kia tying the mangalsutra around Kabir's neck.
It takes an innovative director to make the off-beat work.
But Balki is not that director since he quickly falls back on familiar props like kitty parties to keep the narrative moving.
So Kia is off to work daily while Kabir broom and mop in hand starts honing his artistry by keeping the flat clean, learns to make coffee and hosts kitty parties for the ladies in the neighboring flats.
If I had any sense, I'd have walked out at that point. Alas, good sense has never been my strong suit.
So I stayed put and endured pain, more pain and even more pain from this effrontery.
Kabir Bansal is soon the talk of the nation, invited on talk shows, gives Ted lectures and speeches on marketing at Kia's company.
Even Jaya Bachchan is smitten with the boy and invites him over for lunch much to her spouse's irritation.
Balki's filmography reveals a strange fixation with the Bachchans.
After her mother collapses due to low BP, Kia returns from NYC, her anger rising like froth in the Caramelized Honey Latte at my neighboring Starbucks, and lashes out at Kabir.
Can't Indian filmmakers ever make a movie without love being centerstage and without the pair having nasty fights only to patch up a few minutes later and jump into each others arms?
After watching this utter travesty, my conclusion is that normal may be boring but the off-beat is more often than not unendurable.