Finding Fanny easily makes it to the thin list of my favorite Indian movies.
The story is delightfully offbeat, highly original and the acting an endless treat.
Love, lust and regret hang heavy in the decrepit air of Goan village Pocolim that time seems to have passed by.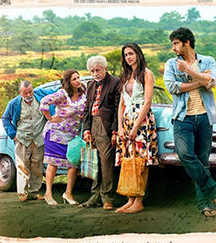 Love
Pocolim's postmaster, the old bachelor Ferdie (Naseeruddin Shah) is one of a kind.
Mooning 46 years over a rejection from inamorata Stephanie Fernandes aka Fanny, his life goes off balance when he learns the letter (proposal) he sent to Fanny never reached the pretty girl.
So the batty old man determines to find Fanny and express his deep, abiding love to her face to face.
That's the starting point of this dark romantic comedy featuring Naseeruddin Shah, Pankaj Kapur, Dimple Kapadia, Deepika Padukone, Arjun Kapoor and Ranveer Singh (in a 'short-lived' role). Continue reading »