Finding Fanny easily makes it to the thin list of my favorite Indian movies.
The story is delightfully offbeat, highly original and the acting an endless treat.
Love, lust and regret hang heavy in the decrepit air of Goan village Pocolim that time seems to have passed by.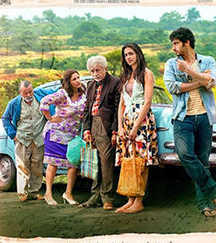 Love
Pocolim's postmaster, the old bachelor Ferdie (Naseeruddin Shah) is one of a kind.
Mooning 46 years over a rejection from inamorata Stephanie Fernandes aka Fanny, his life goes off balance when he learns the letter (proposal) he sent to Fanny never reached the pretty girl.
So the batty old man determines to find Fanny and express his deep, abiding love to her face to face.
That's the starting point of this dark romantic comedy featuring Naseeruddin Shah, Pankaj Kapur, Dimple Kapadia, Deepika Padukone, Arjun Kapoor and Ranveer Singh (in a 'short-lived' role).
A brilliant movie that shatters the Bollywood mold of formulaic or plagiarized filmmaking, Finding Fanny is directed and co-authored by Homi Adajania (Being Cyrus, Cocktail).
Adrenalin junkies, be warned at the outset that this is not a movie in a rush to go anywhere and will quickly reduce you to comatose frustration.
Lust
Lust comes knocking in the form of Pankaj Kapur.
His character Don Pedro is a renowned painter who's in Pocolim to find a muse for his next grand project.
But no sooner is Don Pedro in the village than the arrow of lust bolts his quiver to land on Rosie.
A fat-bottomed widow of a seaman, Rosie (Dimple Kapadia) is the acid-tongued mother-in-law of Angie, herself the victim of an extraordinary brief marriage.
Regret
Regret visits Pocolim in the shape of lissome Angie (Deepika Padukone) and angry Savio (Arjun Kapoor).
Savio's return to the village after six years in Bombay reignites old passions between the old flames and constant thoughts of what could have been.
But nothing is what it seems on the surface of these Pocolim characters. Not love. Not lust. Not regret.
Adajania peels the layers bit by bit adroitly letting us peer into the souls of each of these oddballs.
The English dialogs are well written, crisp, funny and comically Indian in tone.
I thought Pankaj Kapur's character Don Pedro and Naseeruddin Shah's Ferdie got the best lines. What a class show these two great actors put up in Finding Fanny!
Deepika Padukone is pleasing as the good-natured Angie. It's nice to see an Indian actress getting better with each movie instead of the other way around (Kareena, Katrina, Tamanna et al).
Watching Finding Fanny seemed like reading one of Gabriel Garcia Marquez' novels with their phantasmagorical imagery and quaint characters.
Anil Mehta's camera work and music (Mathias Duplessy, Sachin-Jigar) are the icing on this delicious cake.
It'd have been nice to see a bit more of Pocolim's larger setting. But I won't look a gift horse in the mouth.
Not to see Finding Fanny is to display your contempt for all things artistic.
Homi Adajania deserves a huge round of applause for an adorable film like Finding Fanny.