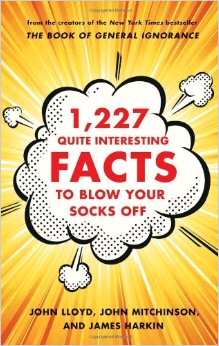 I picked up 1,227 Quite Interesting Facts on a lark.
It was lying forlorn in the new books section of my local library casting a beseeching "Pick Me Up" look in my direction.
I'm glad I picked it up because the book is a cornucopia of interesting 'facts.'
Now I have no way of knowing the veracity of all the items listed in the book but the few that I checked are true.
You can open any page and start reading. Most items should take just a few seconds.
The book covers a wide variety of topics including arts, science, literature, language, humans, animals, insects and the environment.
Here are a few of the interesting 'facts' cited in the $15.95 book:
* Wow! The amount of sperm produced by a single human male in a fortnight is enough to impregnate all the fertile babes on Earth. [p.255]. Now I really understand what people mean when they say, "Little drops of water make a mighty ocean."

* Meow! Four million cats end up on the dining table every year in Asia. [p.106] Since cat food is not a hot favorite in India or the U.S., I can't vouch for this 'feline delicacy.'

* Don't tell this to your girlfriend but Kangaroos have three vaginas. [p.3] Good Lord, one vagina is more than most men can handle.

*Contraceptive pills work well for gorillas too. [p.192] Does that mean they'll work on Salman Khan and Narendra Modi?

* Apparently, a single edition of the New York Times contains more information than an average 17th century Englishman would have been exposed to in his entire lifetime. [p.92] I wonder what the 17th century Englishman would make of the humongous library that the Internet is. Continue reading »