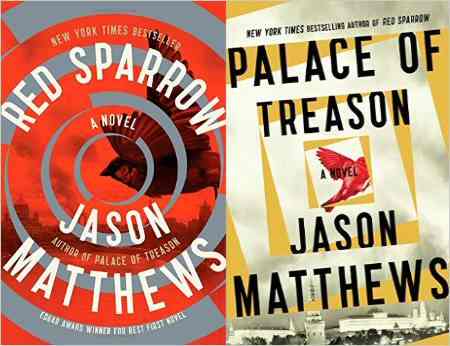 Dominika…reached out and put her hand in the president's lap…With practiced feel, Dominika estimated smaller-than-average dimensions…
– Palace of Treason, P.420-422
Ever since I came under the relentless scrutiny of the G-Men, my long-standing interest in spy thrillers (both books and movies) has heightened.
So it should hardly surprise you that I picked up ex-CIA agent Jason Matthew's Red Sparrow (2013) and Palace of Treason (2015) from the local bibliothek.
As spy thrillers go, Red Sparrow and, to a diminished degree, its sequel Palace of Treason are above average novels.
With a strong and interesting character in Russian counter intelligence agent Dominika Egorova (and to a lesser degree in CIA internal ops officer Nate Nash), the two books are an engrossing fictional take on ceaseless snooping by US and Russia on each other against the backdrop of deteriorating relations.
Things have only gotten worse between the bitter enemies since NSA whistleblower Edward Snowden took refuge in Moscow in June 2013 with a huge cache of US intelligence information that he parcelled out to journalists like Glenn Greenwald and Laura Poitras for wide dissemination.
Size Matters – Oh, Yeah!
What got my attention in the books were the frequent references to Vladimir Putin's supposed corruption, hedonistic lifestyle, the comparisons to Stalin, and, mon Dieu, in the closing pages of Palace of Treason, a bizarre comment on the Russian leader's small dick and the time it takes for Putin's dick to get aroused even when ministered to by a semi-nude Russian buxom beauty.
Now I have no clue if Vladimir Putin is well endowed (or not) between his legs or if his "weasel" really takes its sweet time in coming to life (P. 420-422) even when handled by a barely clothed Slavic beauty.
But I do know that in America size still matters.
All rational evidence to the contrary be damned.
Deluding themselves with asinine fiction on size matters, a huge section of America's White men lives in mortal fear and terror of their womenfolk succumbing to the temptations of BBC (note for the naive: We're not talking of British Broadcasting Corporation but Big Black Cock). And vile white trash racist scum like Dylann Roof exploit the fiction of black men raping White women to commit horrendous crimes.
So given American obsession with size of the male pendulum, the attacks against Putin's manhood in the book should resonate well with author Jason Matthews' hillbilly audience stateside.
Intriguing Female – A Must
In the present times if you dream of putting out a blockbuster book or movie in the West, a safe bet is to package your work with a strong female character.
I don't know why.
Maybe, the world has gotten more effeminized? Maybe young females are the only ones reading or seeing movies with a strong passion?
So you have Katniss Everdeen in Hunger Games, the tattooed nut Lisbeth Salander in Stieg Larsson's trilogy, the real-life Taylor Swift berating Apple Music over non-payments to artistes during the trial period and Dominika Egorova in Red Sparrow and Palace of Treason.
When we first encounter Dominika Egorova (in Chapter 3 of Red Sparrow), she quickly appears a statuesque figure in our eyes.
Like a prized Donatello sculpture.
A former ballet dancer, Dominika is 25, has cobalt-blue eyes, dark chestnut hair, an enticing bust, and flawless skin.
Oh yes, Dominika has a prodigious memory and the mysterious ability to follow colors, a unique, priceless gift that proves handy as she navigates through the soul-degrading Sparrow 'Prostitute' School and then maneuvers her way through the deadly SVR and her zhopa bosses.
Disturbed at various levels, Dominika is an uneasy accomplice in the plot to kill Putin foe Dimitri Ustinov. But in retrospect participation in the murder of the oligarch Ustinov would appear to be one of Dominika's easier tasks.
Nate Nash, the young CIA internal ops agent from Richmond (Virginia) posted in Moscow, is filled with fire about his job alright but he never latches on to our imagination like Dominika does.
The author has not invested as much effort in making Nate's personality as intriguing as Dominika's. Perhaps, the move was intentional and intended to highlight Dominika.
Over the course of several hundred pages, even as Dominika and Nate remain centerstage, we encounter several other interesting characters including the besnovati counter-intelligence chief dwarf Alexei Zyuganov, the one-eyed monster Sergey Matorin, the hermaphrodite/transexual whacko Eva, CIA counterintelligence chief Simon Benford and not least of all the Russian President Vladimir Putin himself.
As a former CIA spy who spent 33-years in the dangerous trade, author Jason Matthews knows the spook business well.
And he brings his deep background knowledge of clandestine operations and familiarity with the Russian language to both books.
Thanks to Jason, I have added a few dozen Russian vulgarities to my lexicon! 😉
Several Stumbles
But even for fictional spy thrillers, there's a lot that Jason Matthews stumbles over in the two books.
To avoid spoilers, I'll mention just a few of the stumbles.
It's hard to believe the CIA would allow an young agent like Nate with so little experience to be the handler for the greatest Russian spy (MARBLE) in its stable.
And then there are the clumsy mistakes of geography. Dhahran is not in Nepal near the Chinese border but in Saudi Arabia.
As for references to India, I found a few – a corrupt Defense Minister (in Red Sparrow), a passing reference to Bollywood (P.446 of Palace of Treason) and Lamb Rogan Josh (P.238 and P.247 of Red Sparrow).
Surprisingly, Snowden gets only a brief mention (a slanderous dismissal as a 'loser' and defector to Russia) in Palace of Treason (P.449).
The repeated Putin bashing and snide charges that the Russian President has a small dick coarsens the narrative and gets tiresome after a while.
As a former CIA agent, Jason Matthews is likely wild with impotent rage at the thought that priceless American intelligence information may have ended up in Putin's hands because of Snowden's actions. But Jason should turn his wrath to the NSA for lax security at the spy outfit.
Despite the errors and an overdose of Putin bashing, Red Sparrow and Palace of Treason are still thrillers well worth your time.
I wonder if these books will make it to Hollywood. Keep your fingers crossed!
Go ahead, reserve Red Sparrow and Palace of Treason at your local library anon.
================================================================
Russian Vocabulary
Here's a sample of Russian words and phrases I picked up from Red Sparrow and Palace of Treason:
yaitsa – Balls
sveni – Swine
Zhopa – Asshole
predatel – Traitor
besnovati – Demoniac
teeleh – Dwarf
Pyos yob tvoyu mat – A dog slept with your mother
Vyrodki – Degenerates
vnebrachnye deti – Bastards
zhivotnoe – Animal
navoz – Manure
dushka – Sweetheart
lichinki – Maggots
diletantka – Insubordinate
Lyubov moja – My Love
Shalava, suka – Slut, Whore
katorga – Forced labor, Penal labor in camps
vot zasranec – 'what a (person who shat himself all over)'
chert vozmi – Shit
dvornyaga – Mongrel
chert poberi – Shit, Devil take you
merzavec – SOB
burya – Tempest
Gospodi pomiluj! – God forbid, Lord
blin 'pancake' – Euphemism for bliad' 'whore'