Ever since the Swedish journalist Stieg Larsson hit the jackpot (alas posthumously) for his crime trilogy, other Scandinavian writers quickly spotted an opportunity, clambered on the sex-murder bandwagon and pumped up their output.
What was a novelty with Larsson and his dragon tattooed girl Lisbeth Salander has now turned into a tiresome exercise with the new crop of Swedish, Danish and Norwegian writers.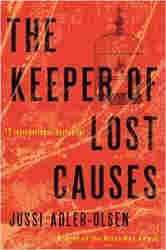 I sometimes get the feeling every Scandinavian crime fiction writer is now working out of the same broad template making some adjustments here and there in the settings and names.
Unresolved Kidnapping
In The Keeper of Lost Causes by Jussi Adler-Olsen, the focus is on the kidnapping of a young Danish female politician Merete Lynggaard in 2002.
As with the majority of crimes worldwide, Merete's kidnapping too remains unresolved.
Some folks believe Merete committed suicide.
Others are convinced Merete's handicapped younger brother Uffe pushed her overboard. After all, a few people had even witnessed a confrontation between the siblings on the boat just before Merete disappeared.
Five years pass.
Merete is forgotten.
But since her body has never been found, the Merete kidnapping case technically remains in the unsolved 'cold cases' category.
Cranky Detective Carl
Enter Carl Morck, a Copenhagen homicide detective just back to work after a traumatic incident in which a violent criminal shot him, killed one of his underlings and left another paralyzed without any hope of recovery.
Already burdened with the reputation of an oddball, the violent attack leaves Carl in a deeply disturbed state.
With Carl's morose, bitching, rude and indolent antics increasingly vexing his colleagues, the Copenhagen Homicide Chief devises a clever strategy to minimize friction inside the team.
Carl is kicked upstairs to a newly created Q department to reexamine old unsolved cases that deserve special scrutiny.
As part of his new job, Carl picks the unresolved Merete Lynggaard case.
Helping Carl in the Q department is the Syrian immigrant Hafez el-Assad.
I found the Hafez-Carl relationship too contrived and hopelessly unconvincing.
The book never really moves into top gear, just lumbers along in first.
Believe it or not, I guessed the identity of the kidnapper and the reason behind it long before Detective Carl did.
As is to be expected with Scandinavian books of this genre, the language is pedestrian.
I found the "happy ending" hopelessly imbecilic given all that comes before it.
I would not recommend The Keeper of Lost Causes.
Life's too short to squander on piffle.