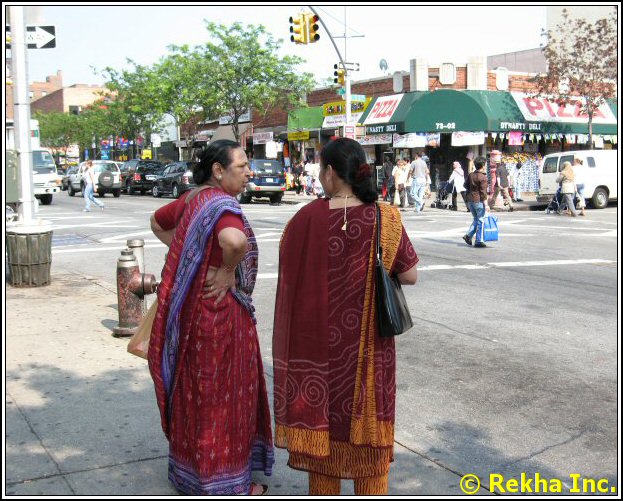 Completely unaware of the photographer creeping up behind them, two desi women are busy chatting on 37th Ave in Jackson Heights, New York.

What are they discussing?

Sorry, we couldn't get close enough to hear their conversation. We could of course let our imagination run wild and imagine them discussing their children, the price of gold at the mushrooming number of jewelry stores in Jackson Heights or the hot New York summer. Or maybe the good old days in India.

Who are they? Mother-in-law--daughter-in-law, mother-daughter, friends or relatives? Sorry, we have no clue.

We just lacked the gumption to ask them who they were, what they were doing there or the subject of their conversation.

Just in case, you didn't know, Jackson Heights is the commercial hub of the South Asian community in New York. A variety of Indian restaurants, jewelers, sari boutiques, music stores, electronic appliance vendors, mithai and grocery stores and beauty salons dot the area.