Hawaii Indian Restaurants, Temples etc
When it comes to the Indian diaspora in the U.S., states like New Jersey, California, New York, Texas, Illinois, Washington, Oregon, Virginia and North Carolina come to mind.

After all, most Indian immigrants make a beeline to one of these states. However, in recent years Indians have not ignored Hawaii either.

A few thousand Indians now call Hawaii home. According to the 2010 U.S. Census, a little over 2,200 Indians live in Hawaii, up 53% over the year 2000.

Besides working as doctors, programmers and in the countless hotels dotting the state, some Indians have established small businesses like curry restaurants.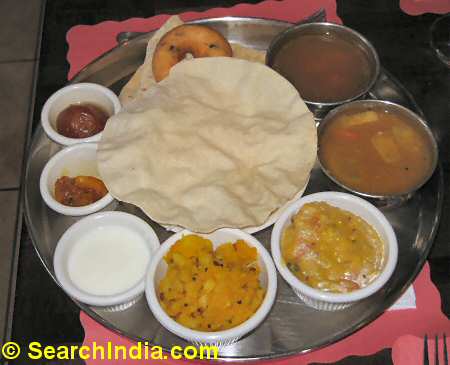 An Indian Thali (with fried Papad on top)
Hawaii Indian Restaurants
If you think Indian food would be scarce in Hawaii because it's so far from mainland USA, you'd be so mistaken.

Hawaii is home to several Indian restaurants and, boy, are the numbers growing.

Indian restaurants can now be found in Honolulu, Hilo, Kailua-Kona, Kihei and a few other parts of Hawaii.

Hawaii Indian restaurants offer mostly North Indian items like Naan bread, Tandoori Chicken, Chicken Curry, Palak Paneer, Paneer Makhani etc. But at places like Komala Curry House you can get South Indian favorites like Lemon Rice and Pepper Chicken.

Of course, you won't find an Indian restaurant without Mango Lassi (a refreshing smoothie like drink) or the Samosa appetizer.

Here are a few Indian restaurants in Honolulu, Hilo and other parts of Hawaii.


Honolulu

India Bazaar Madras Curry

2320 S King St
Honolulu, Hawaii 96826
Ph: 808-949-4840



Ruchi Food Truck

Sheridan And S King St 4
Honolulu, HI 96814
Ph: 808-840-7660
http://ruchiindianfood.com



The Curry

801 Kaheka St
Honolulu, HI 96814
Ph: 808-946-1121



Masala

661 Keeaumoku St, Ste 102
Honolulu, Hawaii 96814
http://www.masalahawaii.com



Monsoon India

Discovery Bay
1778 Ala Moana Blvd, Suite 213
Honolulu, HI 96815
http://www.monsoonindiamaui.com



India Cafe

2560 McCarthy Mall
Honolulu, HI 96822



Cafe Maharani

2509 South King Street
Honolulu, HI 96826
http://www.cafemaharanihawaii.com



India Cafe

4725 Bougainville Dr, Bldg 631
Honolulu, HI 96818
Ph: 808-423-3330
http://www.indiacafehawaii.com
Hawaii Indian restaurant with multiple locations




Cafe Taj Mahal

3036 Waialae Avenue, Suite B-4
Honolulu, HI 96816
http://cafetajmahal.com




Monsoon India

1778 Ala Moana Blvd, Ste 213
Honolulu, Oahu, HI 96815



Komala Curry House

1111 Bishop Street
Honolulu, Hawaii 96813
Ph: 808-498-7484



Himalayan Kitchen

1137 11th Ave
Honolulu, Oahu, HI 96816
Ph: 808-735-1122



Hilo

Akmal's Indian Food

174 Kamehameha Ave
Hilo, Hawaii 97620
Ph: 808-769-3944
http://www.akmalsindianfood.com/



Prabha's Vegetarian Indian Restaurant

239 Keawe St.
Downtown Hilo, Hawaii
http://www.indianfoodhilo.com/



Kamana's Kitchen

1235 Kilauea Ave Ste #180
Hilo, Hawaii 96720
http://kamanakitchen.com



Kailua-Kona

Kamana's Kitchen

75-5770 Alii Dr, Suit 2-3
Kailua-Kona, HI 96740



Kihei

Monsoon India

Menehune Shores
760 South Kihei Rd
Kihei, Hawaii 96753
Ph: 808-875 6666



Wailuku

Fiji Indian Food

2050 Main St, Ste FC4
Wailuku, HI 96793
Ph: 808-243-3454
http://www.fijiindianfood.com



Lahaina

Indian Express

Wharf Cinema Center
(Across from the Banyan Tree on Front Street in Lahaina)
658 Front St, Ste 110
Lahaina, HI 96761
Ph: 808-661-1207
http://www.indiaexpressmaui.com


****************************