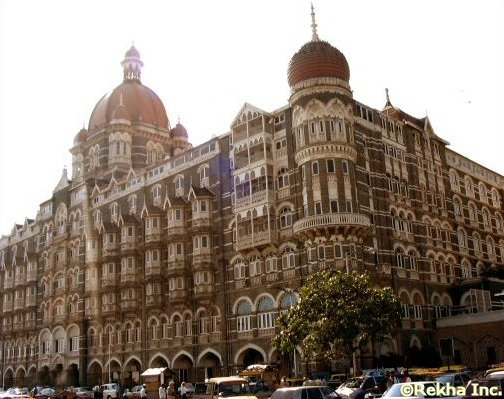 Old Taj Hotel
Apollo Bunder,
Mumbai 400001
Ph 91-22 66653366

Taj Terrorist Attack Related Helpline Numbers:
91-22-66574322, 91-22-66574372 and 1800111825

Now the scene of a fierce battle between terrorists and Indian police, the Taj Hotel is a major landmark in Mumbai, India's financial capital.

Click here for more details on the November 26, 2008 Terrorist Attacks on Mumbai.

A Mumbai landmark and architectural marvel, the Taj Hotel opened in 1903.

The beautiful hotel brings together Moorish, Oriental and Florentine styles of architecture and provides sweeping views of the Arabian Sea and the Gateway of India.

The hotel has 565 rooms including 46 suites and has played host to Bollywood and Hollywood Film Stars, CEOs, Presidents and Maharajas.

Parts of the Taj were destroyed in a fire in the fierce battle between India's security forces and terrorists in the attacks of November 26, 2008.

The Taj Hotel is part of India's Tata business house.