Rang De Basanti
(Scroll down to read the review)
Other Movie Reviews

Rang De Basanti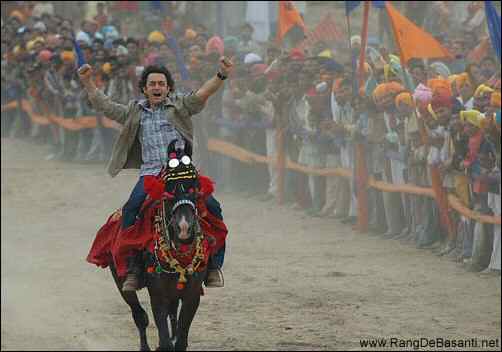 Reviewer's Summary - Average

Language: Hindi
Year: 2006
Actors: Aamir Khan, Alice Patten, Siddharth, Kunal Kapoor, Atul Kulkarni, Sharman Joshi, Soha Ali Khan, Madhavan, Anupam Kher, Om Puri, Waheeda Rehman
Director: Rakeysh Omprakash Mehra
Producer : Ronnie Screwvala & Rakeysh Omprakash Mehra
Story : Kamlesh Pandey
Music: A R Rahman
Lyrics & Dialogs: Prasoon Joshi
Rang De Basanti has dashed our hopes for relief from the prolonged drought of great movies in Bollywood.

This film will ensure the continued march of the mediocre parade down Bollywood Avenue.

After reading the diaries of her grandfather, who was a British police officer in pre-Independence India, Sue (Alice Patten) makes a trip to India to shoot a film on the famed revolutionaries Bhagat Singh, Chandrashekar Azad, Ram Prasad Bismil, Ashfaq Ullah Khan etc.

In Delhi, Sue meets five friends Sonia (Soha Ali Khan Pataudi), Daljeet Singh a.k.a DJ (Aamir Khan), Karan Singhania (Siddharth), Aslam (Kunal Kapoor) and Sukhi (Sharman Joshi). Saffron nationalist Laxman Pandey (Atul Kulkarni) joins the group later.

DJ has passed out of the university five years earlier but still hangs around the place; Karan is the son of a rich industrialist played by Anupam Kher; Aslam is a painter, whose family is not happy over his association with his Hindu friends. Sonia has a steady boyfriend in Ajay Rathod (Madhavan), an idealistic fighter pilot in the Indian Air Force, and Sukhi is a playful young man blabbing about girls.

Disillusioned by the corruption and decay of the Indian political system, DJ, Karan, Aslam and Sukhi are deeply cynical that things will ever change for the better in India. They spend their time partying, drinking and racing their bikes and jeep.

Sue prevails upon her new friends to act in her film as the Indian revolutionaries. Although they initially sport a flippant attitude, the five friends soon get into the role of the revolutionaries.

The movie juxtaposes the pre-Independence revolutionaries' valiant acts with the present lives of the five friends.

The rubber meets the road after Sonia's boyfriend Ajay is killed when his MiG fighter plane crashes.

The villain of the movie is the defence minister who besides conniving in the procurement of dubious parts for MiG fighters also slanders Ajay's reputation by attributing the crash to human error. A police baton charge on peaceful protesters makes a bad situation worse leaving Ajay's mother (yesteryear heroine Waheeda Rehman) in a coma.

In a reprise of the revolutionaries' attacks on the British, the enraged friends plot to kill the defence minister and shoot him down during his morning constitutional setting the stage for the final showdown.

Unlike pathbreaking Bollywood movies such as Paheli or the recent Hollywood hit Brokeback Mountain, Rang De Basanti doesn't tread new ground. Venal politicians are hardly new in Indian politics or for that matter in any political system. Several Hindi and regional language films in the early 1980s dwelt on the subject and Rang De Basanti hardly adds anything new here.

Also, the transformation of the party boys into revolutionaries seeking to awaken the country is poorly handled.

Rang De Basanti's music is very run-of-the-mill and lifeless. Loose control, Rang De Basanti and Roobaroo are passable songs. For sure, none of the Rang De Basanti songs will become super-hits.

There is not much to complain on the acting front. But a poor script can pull down even great actors like Marlon Brando (for proof, see that weird film Last Tango in Paris).

All in all, Rang De Basanti is dejavu at best and ennui at worst. - Copyright SearchIndia.com.