Water
Language: Hindi
Year: 2005
Actors: Lisa Ray, Seema Biswas, Sarala, John Abraham, Waheeda Rehman, Kulbhushan Kharbanda, Raghuvir Yadav, Vinay Pathak
Director: Deepa Mehta
Producer: David Hamilton
Written by: Deepa Mehta
Music: Mychael Danna
Lyrics: Sukhwinder Singh
Song Composed by: A R Rahman

Water Review - Gorgeous Film

Water is a work of art worthy of the highest accolades.

Although a Hindi language film, Water is not your run of the mill Bollywood masala movie that has the hero and heroine running around trees and dancing like apes while lip-syncing to silly songs amidst incongruous settings of Switzerland, Holland, Mauritius or other exotic locales.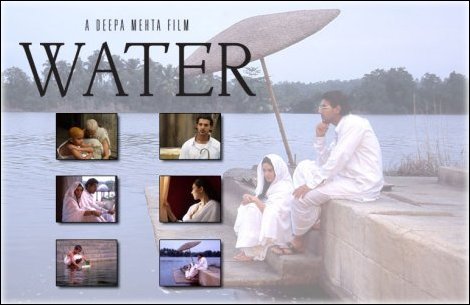 A labor of love for Canadian film director Deepa Mehta, Water is a sad and profoundly moving commentary on the pitiful plight of Indian widows - particularly child widows - in the late 1930s (we are not sure if much has changed in the last 70 years).


Fate of Widows in India
Widows have a very low social status in the Hindu system and their sight considered an ill-omen. Often blamed unfairly for their husbands' deaths and exploited in every way by both relatives and outsiders, widows are expected to devote their lives to God and lead a life of renunciation.

Sometimes family members abandon widows in holy cities like Varanasi or Allahabad. In these cities, widows are compelled to live together in small ashrams. With little food, clothing, shelter and almost certainly no love, these widows lead despair- filled lives with their days consumed by chantings of Hindu religious hymns.


Child Widow Chuiya
Water tells the tragic story of a child widow Chuiya (Sarala) brought to the widows ashram in Varanasi by her father, her beautiful friend in the ashram Kalyani (Lisa Ray) and Kalyani's admirer Narayan (John Abraham).

In one of Water's many memorable scenes, when eight-year-old Chuiya is woken up one day and informed by her father that she's now a widow, the child innocently asks - for how long, papa?

Water is also the story of a people trapped in a hidebound culture that values tradition above basic rights and dignity for women.

It's also a wrenching tale of the widows' economic struggle for survival, a struggle that forces some like Kalyani to become concubines of wealthy aging landowners in the area.

Deepa Mehta has elicited strong performances from all the actors in the movie.


Seema Biswas, Lisa Ray
Our favorite character in the movie was the widow Shakuntala played with great elan by that fine Indian actress Seema Biswas. Though a widow herself, Shakuntala has a compassionate and rebellious core that wants to assist other widows like Kalyani who have a chance of freedom from their dreary lives.

We tried hard to find flaws in Water but drew a blank.

Water has had its share of controversy. Believing that the movie was against Hinduisim, enraged Hindu activists in 2000 destroyed the film's sets in Varanasi and set back the making of the movie by a few years.

Facing a hostile environment in India, Deepa Mehta ultimately made the movie in the neighboring country of Sri Lanka.

Water is the concluding movie in Deepa Mehta's film trilogy that includes Fire (1996) and Earth (1998).

Water was released in 2005 to critical acclaim but as of February 2007 the movie has yet to be shown in India, a supposedly secular country.

Water was nominated for the 79th Academy Awards a.k.a. Oscars but failed to win the prestigious honor.- Copyright SearchIndia.com.






Other Movie Reviews