Yun Hota Toh Kya Hota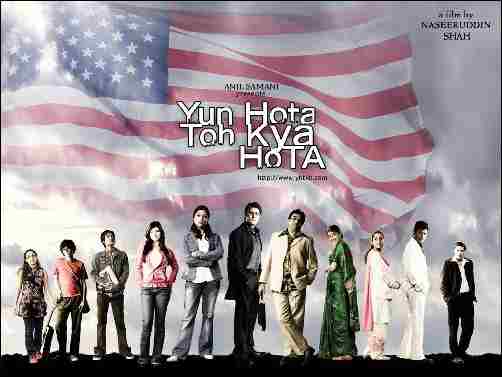 Reviewer's Summary - Fine

Language: Hindi
Year: July 21, 2006 in the U.S.
Actors: Konkona Sen Sharma, Paresh Rawal, Irfaan Khan, Ankur Khanna, Ayesha Takia, Jimmy Shergill, Karan Khanna, Ratna Pathak, Suhasini Mulay
Director: Naseeruddin Shah
Producer: Shabbir Boxwala
Music: Viju Shah
Lyrics: Sameer
Story: Uttam Gada
Just as we were despairing about the mostly pitiful crop of Bollywood films assaulting all our senses, comes along a fine movie like Yun Hota Toh Kya Hota.

This engaging movie oozes a certain charm that we've seldom seen in Bollywood.

The allure of Yun Hota Toh Kya Hota lies in its offbeat story. A story that strays far from the usual Bollywood tripe of five songs-four fights-three-dances.

In a Bollywood rarity, with Yun Hota Toh Kya Hota the whole is greater than the sum of its parts. Besides the unusual story, fine acting by the main characters, crisp dialogs and deft direction by actor extraordinaire Naseeruddin Shah add up to an unusually entertaining ensemble.

Marking Naseeruddin Shah's debut as a director, Yun Hota Toh Kya Hota is the story of four characters, who unbeknownst to each other are destined to share a similar fate in the end. The principal characters don't know each other and don't even meet. Their stories run in parallel.

Played with much aplomb, the four characters are an organizer of foreign shows Rajubhai (Paresh Rawal), poor medical student Rahul Bhide (Ankur Khanna), the newly married bride Tilottima Punj (Konkona Sen Sharma) and stockbroker Salim (Irfaan Khan).

Rajubhai is heading to the U.S on yet another of his shows, this time taking along with him the wide-eyed, inncocent Payal (Shahana Goswami), daughter of his old love Tara (Ratna Pathak Shah). Largely due to the encouragement of his rich friend Khushboo (Ayesha Takia), whom he secretly pines for, Rahul is reluctantly going to the U.S for his post graduate studies.

Salim is already in New York, having left in a hurry after he and his brother unwittingly get entangled in the murder of a police officer Paul (Bomman Irani)

Tilottima, who is being driven crazy by her insecure mother-in-law and crazy sister-in-law, is leaving for the U.S. to join her husband after fraudulently obtaining a tourist visa.

Rajubhai and his daughter, Rahul and Tillottima land in Boston and are supposed to take the connecting flight to Los Angeles, the next morning. Only, the next morning is 9/11/2001.

Meanwhile, Salim ends up on the 95th floor of World Trade Center in downtown Manhattan on the morning of 9/11 waiting for a family friend, who's promised to help him get a job in Columbus, Ohio.

Moments before she can board the flight to L.A., Tilottima loses her boarding pass. It's in these few minutes, as she runs helter skelter frenetically searching for her boarding pass, that Konkana's acting prowess comes into display.

As dazzled as we were by Paresh Rawal, Irfaan Khan and Ankur Khanna, we were completely bowled over by Konkona Sen Sharma. Konkona delighted us with her extraordinary portrayal of a jilted schizophrenic girl in 15 Park Avenue. She delights us again. The girl is a walking, talking acting lesson to her peers.

After watching hundreds of dispiritingly commonplace Bollywood movie, Yun Hota Toh Kya Hota leaves us with some hope that all's not lost in the Bollywood cesspool of mediocrity. - Copyright SearchIndia.com.