Laaga Chunari Mein Daag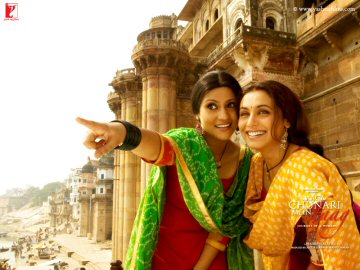 Reviewer's Summary - Rani Mukerji Disappoints; Konkona Sen Shines

Language: Hindi
Year: October 12, 2007 in the U.S.
Actors: Rani Mukherji, Konkona Sen Sharma, Jaya Bachchan, Abhishek Bachchan, Kunal Kapoor, Anupam Kher, Hema Malini
Director: Pradeep Sarkar
Producer: Aditya Chopra
Story: Aditya Chopra
Music: Shantanu Moitra
Say what you will. We think Rani Mukerji's best days are over.

In Laaga Chunari Mein Daag, Rani Mukerji continues her run of disappointing performances that started off with Kabhi Alvida Naa Kehna and extended to Babul and Ta Ra Rum Pum.

Actually, Laaga Chunari Mein Daag starts off fairly decently but goes off course fairly quickly and loses its way. Hey, it's not even half as good as that recent surprise charmer Johnny Gaddaar.

Apart from Rani Mukerji's ho-hum performance, what drags this movie down is the story, which loses steam after the first 30 minutes or so.

Since the story breaks down quickly, director Pradeep Sarkar tries to distract viewers with the cheap trick of suddenly taking the lead actors to Europe. Come on, Bollywood fans are no longer going to fall for such tricks.

Konkana Sen is a delight to watch on the screen. We liked this young lass in 15 Park Avenue, Omkara and Naseeruddin Shah's Yun Hota Toh Kya Hota. And she does not disappoint in Laaga Chunari Mein Daag. Konkona Sen is that rare Bollywood natural in front of the camera.

Set in Benares, Vibhavari (Rani Mukerji) and Shubhavari (Konkona Sen) are the daughters of an old couple Shiv Shankar Sahay (Anupam Kher) and Sabitri (Jaya Bachchan) who have fallen on hard times.

After the family's financial situation gets worse, Vibha decides to try her luck in Bombay. But Bombay turns its back on her as it does for millions who arrive in this teeming megapolis chasing their dreams.

In sheer desperation and out of concern for her family's deteriorating financial condition in Benares, Vibha reluctantly embraces the oldest profession in the world.

Of course, the oldest profession has an euphemism these days. In this age of call centers, prostitutes can't be called call girls, right. So, they are now escorts. Vibha becomes Natasha, the high-priced escort girl, who provides sensual pleasure in exchange for filthy lucre.

In one of the glaring weaknesses of this movie, we never see the trauma behind Rani Mukerji's transition to whoredom. It's as if by just changing her clothes and adding some makeup, the small-town girl from the hinterlands Vibha is transformed into Natasha, the high-priced whore of Bombay. The Rani Mukerji, who delighted us in Black and Paheli, cruelly deceives us with a lacklustre performance in Laaga Chunari Mein Daag.

When her younger sister Konkona Sen confronts her about her profession on a rainy night outside a posh hotel, Rani Mukerji delivers a most lifeless performance.

The Abhishek Bachchan -Rani Mukerji love angle is poorly developed and crassly executed.

That old Guddi and Anamika girl Jaya Bachchan looks like a hag these days. We never see this woman sans a frown in Laaga Chunari Mein Daag.

Unlike Jaya Bachchan, Hema Malini, who has a small role in this movie, has still managed to retain her grace and charm. Hema Malini has done a better job in battling the ravages of age than Jaya Bachchan.

As Konkana's colleague and boy friend Vivaan, Kunal Kapoor impresses with his fine performance.

There's not much relief coming your way by way of music in Laaga Chunari Mein Daag. Just Fuggedaboutit.

Hum To Aise Hein does the least damage to the eardrums.

Thankfully, Abhishek Bachchan has a limited role in this movie. With his lethargic acting style, Abhishek Bachchan is one of the most mediocre actors in Bollywood today. If he were not the son of Amitabh and Jaya Bachchan, it's hard to imagin this bozo would have amounted to much. Sadly, Abhishek Bachchan shows no sign of improvement even after appearing in about 40 movies.

It's hard to accept that Laaga Chunari Mein Daag is the best that one of Bollywood's pre-eminent movie houses Yash Raj Films can offer to Bollywood fans. None of their recent movies including Ta Ra Rum Pum, Jhoom Barabar Jhoom, Chak De India and now Laaga Chunari Mein Daag have the magic that one expects from the folks that brought us Dilwale Dulhania Le Jayenge (1995) and Dil To Pagal Hai (1997).

Perhaps it's time for Yash Raj's head honcho Aditya Chopra to look for a new vocation.

Laaga Chunari Mein Daag is definitely a movie worth missing if you are looking for quality entertainment. Watch Johnny Gaddaar or Shekhar Kapoor's Elizabeth - The Golden Age if it's running in your town. - Copyright SearchIndia.com.