Namastey London
(Scroll down to read the review)
Other Movie Reviews

Namastey London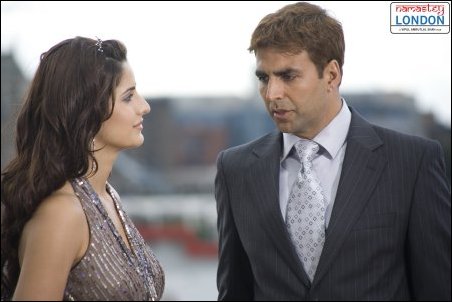 Reviewer's Summary - Rubbish; Bizarre Story

Language: Hindi
Year: Released on March 23, 2007 in the U.S.
Actors: Akshay Kumar, Katrina Kaif, Rishi Kapoor, Upen Patel, Javed Sheikh
Director: Vipul Amrutlal Shah
Producer: Vipul Amrutlal Shah
Story & Screenplay: Suresh Nair
Dialogs: Ritesh Shah
Music: Himesh Reshammiya
Lyrics: Javed Akhtar
Namastey London is an obnoxiously bad movie, by far the worst Bollywood movie we've seen in 2007.

With a bizarre story line that demands too much credulity of viewers, mediocre songs and sub-par acting by Katrina Kaif, Namastey London is worse than your usual Bollywood balderdash.

It's naive to expect audiences to believe that a just married Punjabi man will bovine-like acquiesce to his wife's moves to jettison their marriage and let her marry her White boyfriend in London, all for the sake of her happiness. What baloney!

For the young British girl Jasmeet a.k.a. Jazz on her first visit to her homeland in the company of her NRI parents, India is not a pleasant experience, what with the mosquitos and the weird young fellows that her father Manmohan Singh (Rishi Kapoor) keeps throwing at her in hopes of finding an Indian son-in-law.

When the young girl and her parents visit her father's village, Jazz finds it utterly gross - and throws up - when she sees Arjun Singh (Akshay Kumar) drinking milk straight off the cow.

But for Arjun, it's love at sight when he sees the pretty Jazz. The young girl marries Arjun but no sooner are they in London for the reception, than she declares that the marriage was just a ruse for her to return to her beloved London boyfriend Charlie Brown.

There are a few comical scenes like the Rugby match between the British team and the Desis but they are few and far between.

After giving audiences a decent movie in Waqt (2005), director Vipul Shah has delivered a clumsily inept dud in Namastey London.

Even after about a dozen Indian movies, the beautiful Katrina Kaif is all at sea in the acting department. It's safe to say this young lady gives new depth to the expression "bad actress".

Akshay Kumar does not set the screen afire either. At 40, Akshay Kumar looks far too old to be playing the young bridegroom anymore. Despite all the makeup, his face sometimes looks haggard, displaying the inevitable toll of age.

With most of his movies bombing badly these days (Bhagam Bhag, Jaan-E-Mann, Humko Deewana Kar Gaye and Mere Jeevan Saathi are just some of his recent flops), Akshay Kumar appears to be vying hard for the mantle of Flop King of Bollywood.

Former journalist Suresh Nair takes credit for the Namastey London story and screenplay. And what a pathetic story it turns out to be.

None of the Namastey London songs lodge in your memory minutes after you exit the movie hall. Rafta Rafta and Dilruba are two of the passable songs.

All in all, Namastey London is a repellent Bollywood farce devoid of any artistic or entertainment value.

This season when moviegoers in India and the U.S. have sparkling entertainment in the form of Mira Nair's The Namesake and Deepa Mehta's Water, why would they want to waste time and money on a depressing spectacle like Namastey London.- Copyright SearchIndia.com.