Our earliest memories of South Indian restaurants are of dark and dingy interiors, food served in dirty plates or banana leaves and water poured into tall tumblers by sweat-drenched waiters in the dusty small towns and cities of Tamil Nadu in South India.
Four decades and 10,000 miles later, a visit to a South Indian restaurant remains a mishap-prone, dirty journey into the unknown.
We've visited scores of Indian restaurants in the New York metropolitan region and have found several of them to be dirty.
Indians, it seems, bring all their dirty baggage – literally and figuratively – to America.
Our latest knowledge of a dirty South Indian restaurant is Tamil Nadu Bhavan on Lexington Avenue in the Curry Hill area of New York City. The Murray Hill area in Manhattan, where Tamil Nadu Bhavan is located, is referred to as Curry Hill for its proliferation of Indian restaurants.
But even by the stinking standards of dirty Indian restaurants in New York City, Tamil Nadu Bhavan a.k.a New Saravana Bhavan Dosa Hut in Manhattan is a rat hole.
Evidence of Rats, Mice, Roaches and Flying Insects are only some of the problems identified by the NYC Health Department in its April 23, 2008 inspection of Tamil Nadu Bhavan, which earned this ugly Indian restaurant an astounding 80 violation points.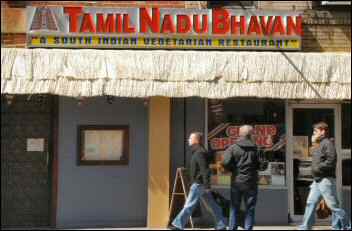 Tamil Nadu Bhavan – A New York Rat Hole
102 Lexington Ave, New York, NY 10016
Ph: 212-679-4497
In the same inspection report, the NYC Health Dept inspector also wrote: Food item spoiled, adulterated, contaminated or cross-contaminated.
And by the way, this restaurant is not vermin proof.
In less than four months after Tamil Nadu Bhavan opened, the NYC Health Department of Health & Mental Hygiene ordered this dumpster to be shut down.
Tamil Nadu Bhavan has the dubious distinction of failing the New York Continue reading »