Frustrated with the intermittent WiFi connectivity issues plaguing my 27-inch iMac (despite a $1,700 price tag), I vamoosed over to Best Buy today and got the Actiontec Powerline Network Adapter Kit PWR 500 for $50.
Actiontec's PWR 500 provides Internet connectivity in the home through the existing electrical wiring circuits, promising speeds up to 500Mbps.
So if you have a badly built product like the 27-inch iMac (with WiFi issues that Apple refuses to fix) or a WiFi black-hole in a part of your house, powerline network adapters are a good route to stable Internet connectivity.
I purchased the Actiontec for two reasons – First, the printed material on the box promised me encryption with key management and second, because it was on sale for $50.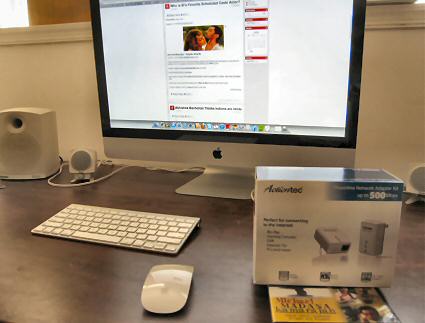 Actiontec PWR500 Adapter Kit for My Bad 27-inch iMac

Actiontec PWR500 is easy to set up and I had smooth Internet access in no time.
Plug-n-Play, folks. Literally.
After hooking up the PWR500, I did a speed test to see what speeds I was getting.
My speed test on a Sunday afternoon showed a download speed of nearly 26Mbps on the iMac and over 4Mbps upload.
This was my first experience with powerline networking gear and I was pleased as punch.
Pleased, that is, until I decided to follow the 'instructions' for encryption key management that came in the PWR500 manual.
Once I followed the 'instructions,' I fell into a big 'connectivity' pothole.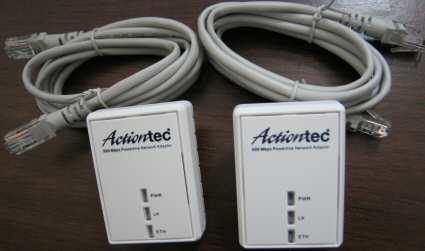 What Comes in the PWR500 Box
The PWR500 comes with two adapters, two Ethernet cables and an instruction manual. Continue reading »