Don't fuck with Walmart…Embrace the change
– Corrupt DEA official Dennis' advice to Ben and Cho on how to respond to the Mexican drug cartel in Oliver Stone's new film Savages
Beneath our thin cloaks of civility, clothes and chatter, truth be said, most of us are savages (yes, you too).
But every once in a while, for some people the veneer drops, the mask unravels and the curtain rises to show Man's inherent savage state of violence, blood and gore. What Hobbes likely meant by the state of nature.
If, like me, you have a lusty appetite for seeing people in their true bloody colors, then Oliver Stone's new movie Savages is the right pick for you this weekend.
Savages is a delicious 125-minute blood fest catalyzed by love and fueled by the drug trade between Mexico and the United States.
And midwifed by a corrupt government official.
Drugs, love, money, corruption and violence, oh, what a volatile combination!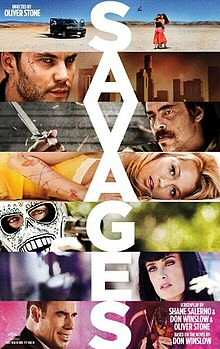 Savages – On Both Sides
At first glance, the Mexican drug cartels with their daily orgy of violence including mass beheadings seem the more savage, bestial kind.
But as we soon realize, the two Americans Cho and Ben, peddlers of high quality marijuana that attracted the Mexican cartel's attention, are no different.
Cho (the Baddist, paranoid, ex-military guy) and Ben (the Buddhist, Bono-type) live in a harmonious ménage à trois with their girlfriend O in a nice ocean side home in the Southern California town of Laguna Beach.
Their high-quality weed is in great demand (15-million satisfied users is nothing to sneer at), Cho keeps having his wargasms, Ben is doing a Bono in Africa and Asia and nourishing dreams of a renewable energy business, and O goes through intense orgasms, her legs tightly wrapped tightly around either Cho or Ben.
Just when the trio's idyllic existence in a large beach-side house starts to evoke audience-envy, trouble comes, not knocking but rudely crashing into their lives. Continue reading »