By Sonny Chatrath
(Note from SI on why we have two reviews for Ek Tha Tiger: NRI actor Sonny Chatrath's uplifting review presents a different perspective from Naveen's take on the film. The two writers come from different directions. As an actor, Sonny views the movie from an entertainer's 'don't over-analyze' perspective – A movie is just a movie where you go to have a good time in the company of friends and family. For Naveen, a movie is more than just a movie. It's a reflection of the nation's psyche, scars and its history. SI has no preferences on the two reviews.)
Whenever we think of Sallu Bhai, the first thing that comes to mind is the shirt coming off, and some weird one liners, such as "Itne Ched Karoonga Ki Confuse Ho Jaoge Ke Saans Kahan Se Len Aus ………."
But Ek Tha Tiger was a class apart.
I can comfortably say that I see this becoming a big hit because of our beloved Sallu Bhai.
Ek Tha Tiger is about Tiger (Salman Khan), who is a RAW agent, not uncooked, but Research, and Analysis Wing for those who are wondering what the heck is a RAW agent.
But this agent is different, instead of working behind the scenes like Jason Bourne, or James Bond, he is flamboyant.
He sings in the streets, and fights the baddies in the middle of town for one, and all to see.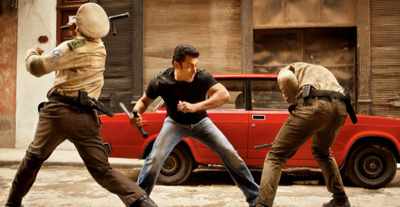 Tiger is sent to Dublin to keep an eye on an Indian Scientist, who is suspected of leaking top secret documents to the enemy (Pakistan).
I do feel we should find another enemy now, Pakistan is so 18th Century now. He meets a charming ISI Agent Zoya (Katrina Kaif), and falls in love with her at first sight (This part sounds familiar). Continue reading »