If Churchill were alive, he'd sternly intone:
Now this is not the end of the Telugu's nightmare. It is not even the beginning of the gulti's end. But it is, perhaps, the end of the beginning for the bidda.
Folks, a Pennsylvania jury has found Telugu bidda Raghunandan Yandamuri G U I L T Y of First Degree Murder in the brutal, senseless crime that took the lives of baby Saanvi Vennas and her 61-year-old grandmother Satyavathi Venna at their King of Prussia (PA) apartment complex on October 22, 2012 during a botched kidnapping for ransom bid.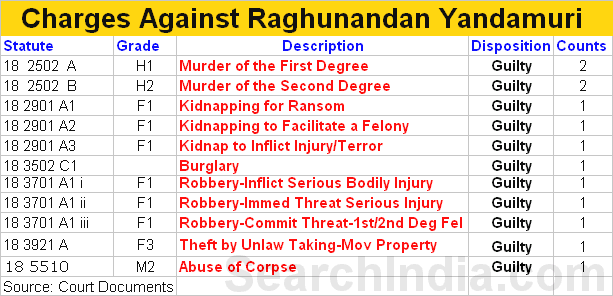 The charges against Yandamuri included murder in the first degree, murder in the second degree, kidnapping, burglary and abuse of corpse. The jury found Yandamuri guilty on all counts including kidnapping, robbery and abuse of corpse.
With hands folded, Yandamuri was in the court room when the jury verdict was read out to a packed room. He showed no expression when the guilty verdict in First Degree Murder was read out.
Yandamuri's mother, who's flown in from India for the trial, was seated in the front row when the verdict was announced. Not surprisingly, she wept when the verdict of guilty in First Degree Murder was read out. Yandamuri was seen consoling her.
Meaning of Verdict
Being found guilty of First Degree Murder means Yandamuri is eligible for the death penalty that blood-thirsty Montgomery County prosecutors are seeking for him.
Whether Yandamuri gets the death penalty or spends the rest of his life in prison without chance of parole will be determined by jurors during the penalty phase.
Yandamuri's mother will testify and provide mitigating evidence in a bid to save her son from the death penalty.
Since Yandamuri's mother is leaving for India tomorrow, the penalty phase has already started in the courtroom.
The jury decision on the penalty phase could take a few days.
Gross Injustice – Unfair Verdict
The jury in the Yandamuri case has rendered an extremely unfair verdict.
If you ask me, Raghunandan Yandamuri is not guilty of First Degree Murder but guilty of Second Degree Murder.
The entire crime smacks of amateurism and does not seem pre-meditated. Continue reading »