Ask not for whom the bell tolls: it tolls for thee. - John Donne
Telugu Bidda Raghunandan Yandamuri's Ultimate Fate
A Pennsylvania Execution Chamber
(Source: PA Department of Prisons)
Never let it be said that Telugus are not pioneers.
Be it in (re)discovering America, releasing Oscar-worthy Tollywood gems, littering Dum Biryani restaurants across the landscape of Amreeka, committing murderous crimes in state after state, writing code in all 50 American states, butchering Queen's English or hurling venom on the mostly good-natured Tamils, U.S. based Telugus have cemented their reputation as one of nature's extraordinary creatures.
Not since the dinosaurs went extinct 65-million years back, has there been a remarkable species like the Telugus.
No exaggeration to say that Lord Balaji broke his mold into a million fragments after creating Telugus.
Today, U.S. Telugus took their bizarre reputation several notches higher when Telugu bidda Raghunandan Yandamuri became the first Indian to be awarded the death penalty in America.
Yandamuri is neither the first nor the last Telugu butcher in America. More Telugus are awaiting trial for murder in other U.S. states!
Yandamuri was awarded the death penalty for murdering baby Saanvi Venna and her grandmother Satyavathi Venna during a botched kidnapping attempt of the infant in King of Prussia (PA) in October 2012.
Yandamuri – Tick-Tock

The clock has started ticking for Telugu bidda Raghunandan Yandamuri, the first Indian to be punished with death penalty in the U.S.
The bloodthirsty prosecutors of Montgomery County (PA) and the shabby verdict of the jury won over prudence and justice today.
The arguments made by Yandamuri's mitigation attorney Henry Hilles to award Yandamuri life in prison without parole instead of the death penalty cut no ice with the merciless jury during the penalty phase of the most infamous trial of an Indian in America.
As mitigating factors, Hilles informed the jury that Yandamuri had bipolar disorder with a history of psychiatric and non-psychiatric episodes of mania and depression, suffered post-traumatic stress after his father's death in a terror attack and had an addiction to gambling.
But the cold-hearted jurors were unmoved and unanimously handed down the death sentence to the Telugu bidda for the murder of baby Saanvi Venna and her grandmother Satyavathi Venna, kidnapping of the baby, robbery and related offenses at their King of Prussia (PA) apartment complex on October 22, 2012 during a botched kidnapping for ransom attempt.
The dozen jurors took less than four hours to award Yandamuri the death penalty.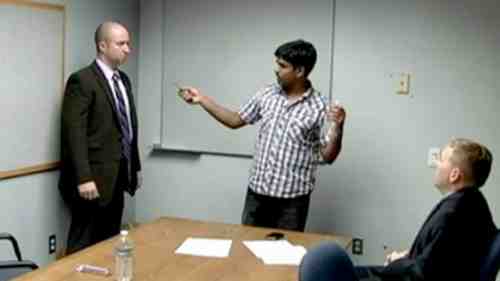 Raghunandan Yandamuri Enacts his Crimes to Pennsylvania Police
Unfair Verdict
As we've said earlier, Yandamuri's murders smack of desperation and amateurism and does not seem pre-meditated. Continue reading »