In or around January 2010, Ms.Bhardwaj's husband in India needed an operation, and her children needed money to pay for it. Ms.Bhardwaj decided to ask defendant Prabhu Dayal for the money he said he was holding for her.

Ms.Bhardwaj asked for the money three times in one day, and he twice said they would talk later. On that day, Defendant Chandini Dayal was in India and Defendant Akansha Dayal was out of the house. That evening Ms.Bhardwaj made her third request for the money when Defendant Prabhu Dayal was seated in the living room. Defendant Prabhu Dayal said he would give her some work to do in order to get the money. He told her she would have to give him a massage for pain in his legs.

Source: Excerpt from Lawsuit filed by maid Santosh Bharadwaj against Indian Consul General in NYC Prabhu Dayal, p.12-13
A lawsuit filed on June 20, 2011 in New York City charges Indian Consul General Prabhu Dayal with sexual harassment for demanding a massage from his maid-servant Santosh Bhardwaj.
In her complaint filed in the U.S. District Court for the Southern District of New York, the maid alleges that in January 2010 her employer Prabhu Dayal asked her for a massage when his wife was in India and daughter was out of the house.
The maid says that she immediately left the room and subsequently left her employer.
The complaint also alleges that Dayal did not pay Santosh Bhardwaj her promised wages, overtime wages and confiscated her passport.
In the suit, the maid alleges she was paid less than a dollar an hour in violation of state and federal employment laws. She is seeking unpaid wages, overtime wages and punitive damages.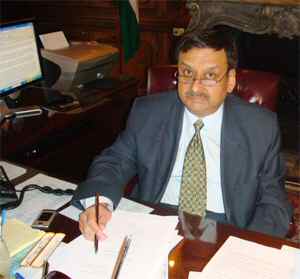 Prabhu Dayal – In the Eye of the Storm
(Image: Indian Consulate, New York City)
The 58-year-old Prabhu Dayal is a senior member of the Indian Foreign Service, who previously served as Ambassador to Morocco. Continue reading »