Of course, there are plenty of nice books.
But let's admit it. There are very few books that move us.
And fewer still that move us to tears at the end of it.
About Alice is a petite book (just 78 pages). Truly in this case, we can say less is more.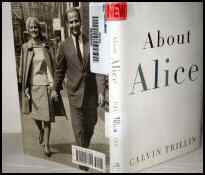 Written as a loving tribute to his late wife Alice who died of cardiac arrest in 2001, About Alice by Calvin Trillin is a joy to read.
Calvin Trillin writes beautifully. With a light touch. And with a humorous tone always in the background.
Well, Trillin's been writing for the New Yorker for more than four decades. Since 1963, if you insist on knowing the exact year. And you don't stay at the New Yorker for four decades by being a bad writer.
As Trillin writes, Alice was:
the voice of reason, the sensible person who kept everything on an even keel despite the antics of her marginally goofy husband.
Trillin met Alice at a party given by the now defunct publication Monocle in late 1963.
Monocle's parties seemed to grow more elaborate as its financial situation became increasingly bleak.
In just 78 pages, we get to know Alice well – the tough childhood years, the parents whose smoking ultimately caused her lung cancer, her work as educator, author and Trillin's muse,  the children and, of course, her husband. We see them all and more.
Of course, there are rough winds in every relationship.
But Trillin glosses over their disagreements except a fleeting mention of a disagreement involving booking a cheap hotel room in Tokyo and his thrifty nature.
Although Alice doesn't live in this world anymore, thanks to this book she reaches out to us from beyond her earthly life.
About Alice is such a charmer that we intend to pick up Trillin's earlier books soon.