Like millions of others, we've been fascinated by the story of the Boy King Tutankhamun, the discovery of his tomb by British archaeologist Howard Carter in 1922 and, of course, the Curse of the Pharaoh.
So it was with much anticipation we headed for Philadelphia the other day to catch the King Tut Exhibition before it left town. Since the last time the exhibition was in the U.S. was in the 1970s, we reckoned if we missed it this time we'd never ever see it considering our age.
More than 3,000 years after the Boy King Tutankhamun's sudden death, the son of Akhenaten and his minor wife Kiya comes alive in the Exhibition at the Franklin Institute in Philly.
Although King Tutankhamun was not a great king and his reign short, what made the discovery of his tomb one of the greatest archaeological finds is the almost undisturbed condition of the tomb and the rich variety of objects inside.
Unlike the tombs of most Pharaohs, grave robbers had mostly missed King Tutankhamun's resting place. So, the tomb yields to our dazzled eyes one of the richest array of objects in fairly pristine condition from 3,000 years ago.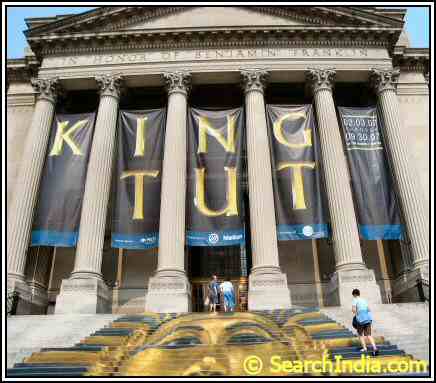 King Tut Exhibition at Franklin Institute in Philadelphia 
The exhibition includes about 130 objects from the tomb of King Tut and other Valley of the King Ancestors.
Alas, the death mask of the King is not included in the exhibition. Apparently, the mask is not allowed to leave Egypt.
But there are a number of other objects such as statuettes, daggers, necklaces, walking sticks, wooden chests, chairs and jars, some of which may have actually been used by the king himself.
Many of the objects at the exhibition have hieroglyphic inscriptions on them.
One of the highlights of the exhibition is an exquisite gold coffinette that was supposedly used to store the liver of King Tut after his death.
We surmised the coffinette was the most precious artifact at the exhibition because we spotted a security guard exclusively dedicated to watching that object alone.
A small chair that may have been used by King Tut when he was a child also made us pause for several minutes.
The King Tut Exhibition, which started on February 3 this year, ends on September 30, 2007.
We missed seeing the exhibition in Los Angeles about 18 months back but we're glad we finally got to see it in Philadelphia.
So, if you have the time and are historically inclined, head to the Franklin Institute in Philadelphia to see some of the finest relics from the age of the Pharaohs.
If you are at the exhibition, for an extra $5 you can watch a nice 45-minute long film called Mummies: Secrets of the Pharaohs at the Tuttleman IMAX theater inside the Franklin Institute.