Just days after Canon debuted two new DSLRs, Nikon is hitting back with two new digital Single Lens Reflex cameras – the high-end D3 and the lightweight D300 for serious amateurs.
Highlights of the Nikon D3 include a 12.1 megapixel FX format (36.0×23.9mm) full frame image sensor with 12-channel read out, 9 fps frame rate, expandable ISO settings from 200-6400, 51-Point autofocus system, 3-inch VGA LCD screen with Live View and the EXPEED image processing system.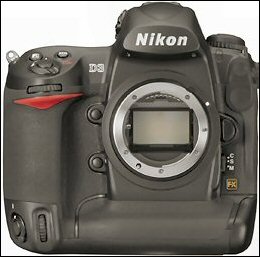 A new Picture Control system (replaces the existing Color Mode settings) in the D3 lets users manipulate images in camera to reduce post processing time.
The D3 offers dual CompactFlash card slots for storage flexibility. So, you can now shoot images to each card one after the other, or simultaneously, as back up. When shooting combined NEF and JPEG files, the NEF image can be written to one card and the JPEG version to the other. Nikon executives say that image files can also be selected and copied from one card to the other after shooting.
The camera includes a HDMI port for output to High Definition displays.
The D3 body measures 159.5 (W) ×157 (H) ×87 (D) mm and weighs 1,390 grams including battery.
The compact D300 is a 12.3 megapixel DSLR with 6 fps frame advance, self-cleaning sensor unit, 51-Point autofocus system and high definition 3" VGA LCD display. The D300 is designed to power up in 0.13 seconds and has an ISO range from 200-3200.
The D300 body measures 147.2 (W) ×112.8 (H) × 74(D) mm and weighs 795 grams.
The D3 body costs $5,000 while the D300 is priced at $1,800. Both are set to ship in November.
Besides the two DSLRs, Nikon also rolled out five new Nikkor lenses – the extreme wide-angle zoom AF-S 14-24mm f/2.8G ED, a slim line standard zoom AF-S 24-70mm f/2.8G ED and three super telephoto lenses with VR (Vibration Reduction): Â the AF-S 400mm f/2.8G ED VR, AF-S 500mm f/4G ED VR and AF-S 600mm f/4G ED VR.
For details on Canon's new DSLRs, click here.