Anupama Chopra's book on Bollywood superstar Shah Rukh Khan may have garnered all the media attention because of her connections but Stephen Alter has written the superior book in Fantasies of a Bollywood Love Thief: Inside the World of Indian Moviemaking.
Fantasies of a Bollywood Love Thief captures the spirit and essence of Bollywood better than any other book we've read lately on the Hindi movie industry.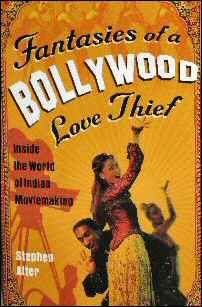 Written against the backdrop of the making of Hindi film Omkara, director Vishal Bharadwaj's adaptation of the Bard's play Othello, Bollywood Love Thief provides not just an elaborate look into Bollywood style moviemaking but also a bird's eyeview of the entire Hindi film industry and some of its dramatis personae.
From the Mahurat (the first shot of a Bollywood production) to star tantrums and the stars' fitness trainers to star salaries, Alter covers 'em all with elan and nice short asides.
We found Alter's strategy of alternating between chapters on the making of Omkara and on some of Bollywood's principals refreshing but some could find it jarring.
It's just not the lengthy and complex process of making a Bollywood film that Alter offers us. He takes us along with him on his meetings with some of Bollywood's most famous personalities – directors, actors, writers, painters and lyricists.
Bollywood's evergreen hero Dev Anand, art film makers Shyam Benegal and Govind Nihalani, lyricist Gulzar, painter M.F.Hussain, director Madhur Bhandarkar, actor extraordinaire Naseeruddin Shah, story writer Javed Akhtar, acclaimed director Shekhar Kapur – you meet them and many others in the pages of Fantasies of a Bollywood Love Thief.
Despite his fascination for the Mumbai film world, Alter doesn't gloss over the ugly underbelly of Bollywood:
Even as Bollywood directors exploit the criminal underworld as a subject, Mumbai's mafia is attracted to the glamor and wealth of cinema. A number of filmmakers have had an unhealthy connection with gangsters for many years…
Unfortunately, one thing Alter does gloss over is Bollywood's enormous penchant for plagiarizing successful Hollywood scripts.
Hitch, Three Men and a Baby, Collateral, A Kiss Before Dying, Disclosure, Derailed, What About Bob, Analyze This and Man on Fire are only a small fraction of Hollywood films that have been shamelessly plagiarized by unscrupulous and lazy Bollywood filmmakers.
But oddly Alter walks gingerly around this issue of stealing Hollywood story lines:
Bollywood is often accused of being derivative, of borrowing story lines from the West. Though some Hindi films may infringe on intellectual property rights, there are many others that break new ground.
Why Alter is pussyfooting on this wholesale theft by Bollywood directors, we fail to understand. Perhaps, Alter wants to maintain a good relationship with the Bollywood folks to keep the dialog going.
Alter does have a keen eye for detail though it can be irritating sometimes. Do we really want to know that there are overstuffed armchairs on one side in the second auditorium of Dev Anand's Navketan Studio?
Alter has a nice writing style that makes Fantasies of a Bollywood Love Thief an easy read.
A few irritations aside, we enjoyed Fantasies of a Bollywood Love Thief.
Alter is an American author, born and raised in India. His cousin is the Bollywood actor and occasional acting teacher Tom Alter, who's supposedly starred in over 200 Hindi movies.