As the American middle and lower classes continue their inexorable downward spiral into destitution and bankruptcy, Americans have caught the gambling bug big time.
In the latest American gambling news, MGM Mirage is investing $5 billion in a new mega casino project in Atlantic City, which already has 11 casinos.
MGM Mirage's proposed multi-billion dollar investment in Atlantic City is ample evidence to the significant upside and opportunities the gambling industry sees for further growth in a mature business.
Sin city Las Vegas currently has 69 casinos and there is a constant drumbeat of news about new projects and expansion of existing casinos.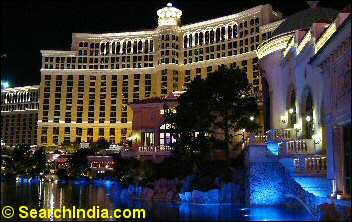 Bellagio in Las Vegas
Apart from the land-based casinos, in America there are casinos on Indian reservations, casinos by the dockside and even on boats in states like Missouri, the so called Riverboat casinos.
Besides the famous Las Vegas strip, Pennsylvannia, Delaware, New Jersey, New York, Mississippi, Missouri, Michigan, Colorado, Oklahoma, Illinois, Louisiana, Connecticut, Rhode Island and several other U.S. states have legalized gambling resorts.
It's not just the casinos that are expanding in the U.S.
Powerball, MegaMillion and other lotteries are all the rage and their sales keep going up.
According to the American Gaming Association, total gaming revenues in 2005 amounted to $83.7 billion.
Besides casinos, gaming includes pari-mutuel wagering, lotteries, legal bookmaking, charitable gaming and bingo, Indian reservations and card rooms.
Americans have always been fond of rolling the dice in the hard-to-resist lure of quick money.
But this time, things are different.
As the American middle class is caught between the Scylla of outsourcing and the Charybdis of bad government policies and greedy corporations and the lower class gets squeezed by illegal immigrants, the vast majority of people in the U.S. have limited prospects and see in gambling an easy option and their only hope for a good life.
The American Gaming Association cites statistics collected from polling data that over a quarter of the U.S. population visited a casino in 2006. As the Powerball winning amount goes up, it's a common sight to see long lines at convenience stores like gas stations and 7-Eleven that sell these lottery tickets.
Never mind the reality that the House in a Casino always has the upper hand or that the odds of winning a Powerball Grand Prize is an astronomical 1 in 146 million.
As Americans gamble more and more in illusory hopes of a quick buck, the only thing that seems to be steadily going downhill is this nation's collective Intelligent Quotient.