Adobe, better known as the maker of the Photoshop graphics software, the Acrobat reader and Flash browser plug-in, has named Shantanu Narayen its new CEO effective December 1.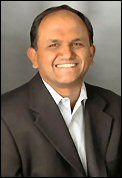 A eight-year veteran of Adobe, Narayen is currently president and COO of the San jose, California software vendor. As COO, Narayen is currently responsible for day-to-day global operations, oversees product R&D, corporate strategy and investments as well as corporate and product marketing.
Narayen will succeed Bruce Chizen, who will serve the remainder of his term on Adobe's Board of Directors through the Spring of 2008 and continue in a strategic advisory capacity through the end of fiscal year 2008.
Before joining adobe, Narayen co-founded a digital photo sharing software firm Pictra Inc and earlier to that worked at Silicon Graphics and Apple.
Narayen holds a bachelor's degree in electronics engineering from Osmania University (Hyderabad), MS in computer sciernce from Bowling Green State University and MBA from the Haas School, UC Berkeley.