Update: Broadway Strike ended on November 28, 2007
As the strike by the stagehands continues this busy holiday season, the lights remain off on much of Broadway, New York's busy theater district near Times Square.
Stagehands, the folks who work behind the scenes to create all those magnificent Broadway shows, are at war with the producers on the number of workers required to open a Broadway show and to keep it running.
The stagehands have been on strike since November 10 turning what should have been a busy holiday season for theaters into dark arenas.
Stagehands include carpenters, electricians, lighting and sound technicians and scenery and prop handlers.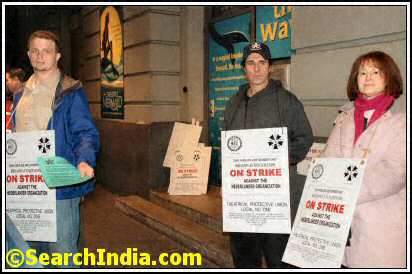 Stagehands outside the Nederlander Theater, NYC
In fliers being handed out to passersby on Broadway, the striking stagehands declare:
Cuts in our jobs and wages will never result in a cut in ticket prices to benefit the public, but only an increase in the profits for producers.

Unlike the producers, we are not fighting for our second or third homes; we are fighting to keep the one that we have.
And what do the stagehands' opponent, the League of American Theatres and Producers, have to say on the strike?
We presented a comprehensive proposal that responded to the union's concerns about loss of jobs and earnings and attempted to address our need for some flexibilities in running our business. The union rejected our effort to compromise and continues to require us to hire more people than we need.

Out of respect for our public and our loyal theatergoers, many of whom are traveling from around the world, we regret that we must cancel performances through Sunday November 25.
Even as the strike turns off most lights on Broadway, off-Broadway productions are open.
Eight other shows – Pygmalion, The Ritz, Mauritius, Cymbeline, Young Frankenstein, Mary Poppins, Xanadu and The 25th Annual Putnam County Spelling Bee – that are not covered by the contracts are also open.
Reports suggest that restaurants in the area have taken a hit because of the strike. There are a few Indian restaurants in the Times Square area.