So what if India has a glorious 5,000-year-old history or an ancient civilization or too many pictureque spots to count.
India has one of the worst records on the planet in attracting foreign tourists to the country.
For the first 11 months of 2007, India recorded just 4.4 million foreign tourists (Source: Ministry of Tourism & Culture, Government of India).
Forget Europe or the U.S.
India's tourist record looks pathetic when you compare it with even other Asian countries like Singapore, China, Thailand or even Vietnam.
For instance, Singapore had 4.9 million visitors in the first six months of 2007 alone. In 2006, Singapore had 9.75 million visitors while India had 4.43 million visitors last year.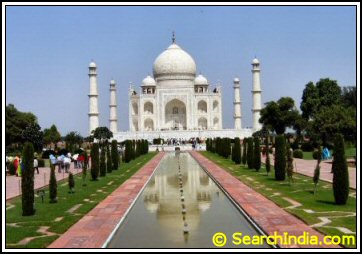 Taj Mahal – A major tourist attraction in Agra, India
When you consider China, Indian tourist arrivals look positively awful. Beijing alone had 3.68 million arrivals in the first 10 months of 2007.
In 2006, China received 46.51 international tourists.
Other Asian countries are also doing better. Thailand is expected to get 14.2 million tourists this year.
Even tiny Vietnam expects 4.3 million tourist arrivals this year. Tourist arrivals in Vietnam has supposedly doubled since 2000.
Much of the blame for India's shameful performance in attracting tourists should rightly go to India's hopelessly incompetent tourism ministry at the Central level and the soporific tourism departments in the various states.