Former Pakistan Prime Minister and leader of the Pakistan Peoples Party Benazir Bhutto was assassinated in Rawalpindi today at 6:16 PM local time adding to the instability of this nuclear nation in South Asia.
Early reports say that a suicide bomber shot Benazir in the neck and chest as she was leaving a campaign rally in Rawalpindi and then blew himself up.
At least, 22 others are said to have died in the bomb blast.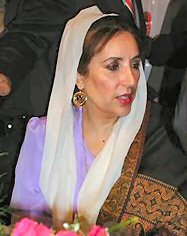 Benazir Bhutto
This was not the first attempt on Benazir's life. On October 19, a suicide attack on Benazir Bhutto in Karachi missed her but killed 150 people.
A popular leader, Benazir's death will add to the political vacuum in Pakistan.
A short while before her death, Benazir told the Rawalpindi rally:
I put my life in danger and came here because I feel this country is in danger. People are worried. We will bring the country out of this crisis.
Benazir had only recently returned to the country with America's blessings from an eight-year self-imposed exile after receiving amnesty from Pakistan President Pervez Musharraf over the corruption charges that sullied her reputation.
But Benazir was never popular with Pakistan's military, a major force in the country's politics and a direct ruler for over half the country's existence.
A recent piece in the New Yorker described the military as,
Pakistan's most important institution – a source of cohesion and national identity, but also of dissonance, internal violence, inequality, and constitutional failure.
Daughter of late Pakistani Prime Minister Zulfikar Ali Bhutto (who was hanged by military dictator Zia Ul-Haq), the 54-year-old Benazir was twice Prime Minister of Pakistan between 1988-1996.
Born on June 21, 1953 into one of Pakistan's wealthy land-owning families, Benazir was the eldest daughter of Z.A.Bhutto and his wife Nusrat Bhutto.
After her early education in Pakistan, Benazir attended the prestigious Harvard and Oxford universities. At Oxford, Benazir was President of the Oxford Union debating  society.
Like the Nehru-Gandhi political family of India, the Bhuttos have seen their share of triumphs and tragedies. Indira Gandhi and her son Rajiv Gandhi were both assassinated just as Z.A.Bhutto and his daughter Benazir Bhutto became victims of political violence.
Besides her ailing mother Nusrat Bhutto, Benazir leaves behind her husband Asif Ali Zardari, two young daughters and a son.
Benazir's two brothers Shahnawaz and Mir Murtaza also died under odd circumstances.
What Next in Pakistan?
The big question now is whether Parliamentary elections scheduled for January 2008 will go ahead.
Pakistan Muslim League N (Nawaz group) leader and former Prime Minister Nawaz Sharif appears to be the only political leader left in the country with a nation-wide standing. Nawaz Sharif was deposed as Prime Minister by military strongman Pervez Musharraf in a coup in October 1999.
Nawaz Sharif is currently in Pakistan campaigning mostly on the single plank of restoring the independence of the judiciary and reinstating the Supreme Court judges dismissed by Musharraf.