One of India's most beautiful women and one of India's most mediocre actress converge in the Bollywood historical romance Jodhaa Akbar (click here to read the review).
And unless you've just come in from Mars, you know we are talking about Aishwarya Rai, or Ash as she is popularly referred to by the fawning Indian media.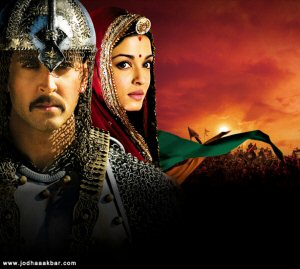 For serious Bollywood fans, Aishwarya Rai is a distressing spectacle on the screen.
No surprise then that several of Aishwarya Rai's recent movies like Mistress of Spices, Umrao Jaan and Provoked have hardly set the box office on fire.
But expectations are sky high with Aishwarya Rai pairing up again with Bollywood hero Hrithik Roshan in Jodhaa Akbar. The two were last seen together in the slick 2006 film Dhoom 2, which fared reasonably well at the box office.
As we wrote of Dhoom 2 in November 2006, the only lingering impressions of Aishwarya Rai in the movie were the arresting images of her thighs and long legs below her itsy bitsy skirts and blouses. If her skirt had gone an inch higher, there'd have been nothing left to the imagination.
Coming back to the present, Jodhaa Akbar purports to tell the romantic story of a Hindu Rajput Princess Jodhaa (Aishwarya Rai) married to Mughal Emperor Akbar, played by Hrithik Roshan.
The union of the Muslim Emperor and the Hindu Princess was in reality a political alliance first and a marriage second.
If history is any guide, Aishwarya Rai will once again deliver a mediocre performance. Her co-star Hrithik Roshan is a better actor, at least by Indian standards.
But the big question surely is, will Aishwarya Rai deliver the kiss of death for Jodhaa Akbar?
Jodhaa Akbar is directed by Ashutosh Gowariker, the director of Academy Awards nominated Lagaan.
Set for release on Friday, February 15, Jodhaa Akbar is supposed to open in 115 theaters  in the U.S. 
In the course of our travels in the deep south in the U.S., we recently picked up a flyer the other day advertising the world premiere of Jodhaa Akbar at the Grand Cinema theater in Baton Rouge, Louisiana on February 14.
Baton Rouge is the inconsequential capital of an inconsequential state Louisiana (its only claim to fame is its misfortune to have as its Governor, the Christian bigot Bobby Jindal).
And Jodhaa Akbar is releasing in Baton Rouge on Thursday, February 14!
Go figure.