Before the Rains
Language: English
Year: May 2008
Actors: Rahul Bose, Nandita Das, Linus Roache, Jennifer Ehle
Director: Santosh Sivan
Producer: Mark Burton
Music: Mark Kilian
Screenplay: Cathy Rabin
When bimbos like Kareena Kapoor and Nayantara or buffoons like Abhishek Bachchan and Ajith Kumar show even a faint spark of acting talent, we are startled.
When talented artistes like Nandita Das or Rahul Bose fail to live up to the standards they've led us to expect from them, we are saddened.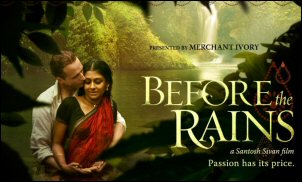 And saddened we were with Before the Rains, the new English film featuring Nandita Das, Rahul Bose and Linus Roache.
Before the Rains has just had a limited release in the U.S. and is playing in few theaters across the country.
Faced with the choice this weekend between watching Jannat in North Brunswick (New Jersey) or Before the Rains in Philadelphia, it was really a Hobson's choice for us – we opted instinctively for the latter having been exposed previously to the talents of both Nandita Das and Rahul Bose.
But Before the Rains fails at many levels.
The narrative is not gripping enough, the acting by the dramatis personae is less than impressive and the visual effects are nothing extraordinary except perhaps in a few stray frames.
Set in the lush green mountainside of Kerala in colonial India (1937, if you must know the exact date), Before the Rains is an effete story of romantic betrayal and its consequences.
Sajani (Nandita Das) is a maid in the home of an English planter Henry Moores (Linus Roache), who is building a road in the middle of the jungle.
But Sajani is more than just a maid to Moores (whose wife and son are in England): this young dark-skinned native – married and with a suspicious and violent husband in the village – also warms her fair-skinned master's bed.
Sajani's White master swears he loves her and his dusky maid risks honor and life in loving him.
TK Neelan (Rahul Bose) is Moore's assistant.
But TK too is more than a mere assistant – unfailingly devoted to his White Sahib, he is Moore's Man Friday and interface to the native population.
TK's White master gifts him an English-made pistol, a sign of his closeness to his underling.
By attempting to straddle two worlds, the suspenders-wearing TK is increasingly alienating his own people, in whom the anti-British ferment is growing.
Life goes on. The jungle road is getting built. Moore looks beyond Tea to Cinnamon and other spices.
We get bored.
And then Moore's wife and son return to India.
Now Moore Sahib, beloved of Sajani and TK, shows his two native underlings his true colors.
In one of the few telling moments of the movie, Moores closes his eyes when TK is led away by the natives, suspected of a horrendous crime that he is innocent of.
A sensuous woman with a nice, well proportioned figure, Nandita never once brings passion to her role as the lover of her British planter master, not even during the passionate scenes between her and Roache in the thick green jungle.
When Roache cruelly snubs her as she beeseches him for a declaration of love, Nandita Das in turn snubs the audience with a less-than-effective performance in what should have been the climactic moment of the movie.
Is this the same Nandita Das who stood out even in a small role in the Tamil film Kannathil Muthamittal (2002).
Maybe, Nandita Das should rid herself of her fatuous infatuation with social activism and focus on her acting.
After all, neither time nor a movie ticket is free.
Rahul Bose, who we enjoyed seeing in 15 Park Avenue and Pyaar Ki Side Effects, also seems more than a bit stiff in Before the Rains – as though straining under the yoke of incipient rigor mortis.
As to what is ailing Rahul Bose we've no clue.
Also, both Nandita and Rahul speak English with a felicity that you really wouldn't expect from villagers in a jungle. Agreed, TK went to school and had some exposure to English. But still the whole effect is jarring and seems so contrived.
Roache is alright but his is not a stirring performance either. As it should have been, particularly after his wife and son return and he finds himself trapped in a dire predicament.
Well, there's nothing stirring about the entire movie Before the Rains. Except for a few stray picturesque shots of the green mountains.
And what, pray, is the message of the road or its connection to forbidden love? One endures, the other does not.
Sure, watching Before the Rains is not the same traumatic, mind altering experience as watching a Bollywood horror show like Tashaan or the Kollywood nightmare Kuruvi.
But it's still a big disappointment when Nandita Das, Rahul Bose and the film they star in fails to enchant us.
Before the Rains is adapted from the film Red Roofs, part of The Desert Trilogy: Yellow Asphalt.
N.B.: Did anyone say that life on the plantation, be it in the tea estates of colonial India or the cotton fields of antebellum America, was fair for dark-skinned folk in the face of raw White power?