Pentax has launched a 10-megapixels Optio W60 waterproof digital camera priced at $329.95.
Optio W60's design is said to allow the camera to be operated in up to 13 feet underwater for two hours and at temperatures well below freezing.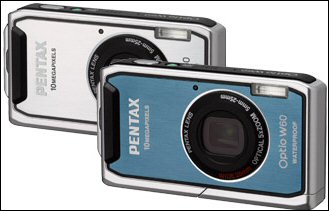 Besides the waterproof feature, the compact Optio W60 digital camera is dustproof against dirt, sand and dust, and comes with a 5X zoom lens with 28mm wide-angle capability.
Optio W60 will ship in July 2008 in two colors – Ocean Blue and Silver.
Other features of the Optio W60 include:
* Dimensions (W x H x D) – 3.9 x 2.2 x 1.0"
* Weight – Without battery or removable memory: 4.4 oz
* Startup – approximately 1.9 sec
* Release lag – approximately 0.03 sec
* Image Stabilization – Still – Digital SR (auto up to ISO 6400, 5M); Movie – Movie SR
* Programmed AE electronic lens shutter with CCD electronic shutter
* Shutter speed – 1/1500 to 1/4 sec (up to 4 sec in Night Scene mode)
* 2.5 inch IPS LCD monitor with Anti-Reflective coating
* Type – 9 point TTL contrast detection autofocus
* Built-in series-control auto flash
* HD movie capture to vividly capture moving memories in widescreen 720p 
* USB 2.0 hi-speed, AV out; Video out – NTSC, PAL; Printer interfaces – PictBridge
* Rechargeable Li-Ion battery D-LI78
* Approximately 205 recordable images, 200 minutes playback time, 75 minutes movie recording time
* Waterproof to 4m (13 feet) protects from rain and spills, as well as underwater photos and video
* Coldproof for use in extreme, sub-zero temperatures
* Advanced Face Recognition technology sees up to 32 faces in 0.03 seconds, with Smile Capture and Blink Detection
* Shake Reduction system automatically set to ISO up to a high 6400 to prevent subject blur