The bozos at ailing IT firm Sun Microsystems have done a bad job on servers yet again while rivals HP, IBM and Dell turned in a decent performance.
In the first quarter of 2008, Sun's server market share by revenue fell by 1.8% even as the worldwide server market grew 3.5% to $13 billion, according to market researcher IDC.
This marks the second consecutive quarter of revenue share decline in servers for Sun, according to the IDC numbers.
IDC estimated that over two million servers were shipped for the second consecutive quarter and a unit shipment growth of 7.8% year over year in 1Q08.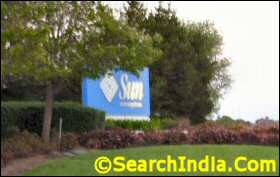 In contrast to Sun's poor showing, its rivals HP, IBM and Dell increased their market share in Q1 (Please see below table for the IDC numbers).
Top 5 Corporate Family, Worldwide Server Systems Factory Revenue, First Quarter of 2008 (Revenues are in Millions)
Vendor

1Q08




Revenue

Market




Share

1Q07




Revenue

Market




Share

1Q08/1Q07




Revenue




Growth

1. HP*

$3,770

29.0%

$3,618

28.8%

4.2%

1. IBM*

$3,651

28.1%

$3,580

28.5%

2.0%

3. Dell

$1,594

12.3%

$1,457

11.6%

9.4%

4. Sun

$1,362

10.5%

$1,387

11.0%

-1.8%

5. Fujitsu/
Fujitsu Siemens

$821

6.3%

$762

6.1%

7.8%

Others

$1,798

13.8%

$1,753

14.0%

2.6%

All Vendors

$12,998

100%

$12,557

100%

3.5%
Source: IDC's Worldwide Quarterly Server Tracker, May 2008
* IDC declares a statistical tie in the worldwide server market when there is less than 1% difference in the factory revenues of two or more vendors.
According to Matt Eastwood, group vice president of Enterprise Platforms at IDC:
The server market continues to experience solid growth as businesses of all types focus on expanding and refreshing their IT infrastructures for both traditional and emerging cloud-based workload. Geographically, the Americas was the weakest region with an overall revenue decline driven in part by a slowing U.S. economy. However, it is also clear that positive exchange rates are helping drive positive server revenue growth in EMEA and Asia/Pacific. Technology suppliers will need to be careful not to become too dependent on this short-term economic boost.
We say, fire the no good Sun dickheads, close this company down for good and return the money to the shareholders.
Sun has no future and stands no chance against the might of IBM and HP.
Sun's share price is in the gutter and close to its 52-week low. Hey, don't count us among the surprised if the Sun sucker turns into a penny stock one of these days and starts trading on the Pink Sheets.
Share Price of Sun, IBM, & HP (May 28, 2008)
IBM – $129.54
HP – $46.52
Sun -$13.07