Oh, how the mighty have fallen.
And for Bollywood film movie-maker Yash Raj Films, the numbers expose their shame.
With just a few exceptions, Bollywood fans are mostly showing Yash Raj Films the middle finger in a clear signal that they are sick of the garbage dished out by this movie house (please see below table for opening weekend numbers).
Barring Dhoom 2 and Fanaa, both the opening gross and the average per screen for the opening weekend of most recent Yash Raj films is pitiful.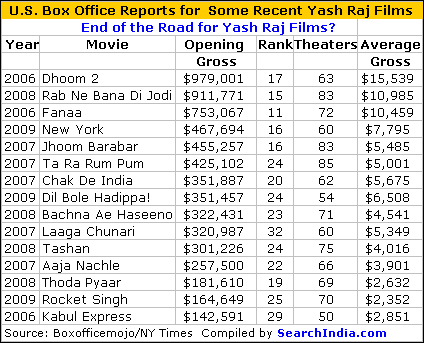 Thoda Pyaar Thoda Magic is the latest crappy film from the Yash Raj stable to meet with a poor response from the box office.
And if you thought, Thoda Pyaar Thoda Magic was bad, other Yash Raj movies like Jhoom Barabar Jhoom and Ta Ra Rum Pum were total garbage.
Yash Raj should pay fans for forcing upon them the agony of seeing such crappy movies instead of asking them to fork out moolah for tickets.
While the above numbers are from opening weekend performances of Yash Raj movies at the U.S. box office, we believe they provide good pointers to this production house's overall fall from grace.
Yash Raj's shameful plight should serve as a warning to other Bollywood movie-makers who think they can rest on their laurels.
Bollywood fans are starting to demand and most definitely deserve to get decent movies considering the high price of tickets. Not the garbage shoveled out by Yash Raj and most of their Bollywood peers.
Most Bollywood movies lack decent and imaginative stories, come with poor quality music and feature disgraceful performances by stars like Abhishek Bachchan, Aishwarya Rai, Amisha Patel, Priyanka Chopra et al who wouldn't recognize acting if it hit them in the face.