These are interesting times for folks looking to expand beyond their point-and-shoot digital cameras.
Canon has just introduced a new entry-level digital single lens reflex camera (DSLR) – EOS Rebel XS.
Highlights of the Canon EOS Rebel XS:
* 10.1 megapixel CMOS sensor
* Optical Image Stabilized kit lens. EF-S18-55mm f/3.5-5.6 IS zoom lens
* Live View
* 7-point wide-area autofocus (AF) sensor
* 3.0 frames per second continuous JPEG burst rate
* Auto Lighting Optimizer
* Price – $699.99 (including lens)
* Weight – 450 grams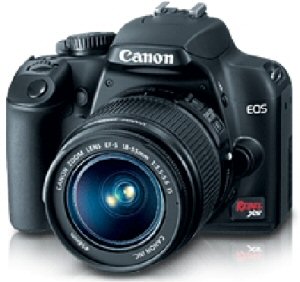 This is what Canon has to say about the new DSLR camera:
Ideal for a wide range of photographers from first-time digital SLR users to veteran photo enthusiasts, the new Canon EOS Rebel XS camera was designed to embody what customers have come to expect from the EOS Rebel series — a fast, non-intimidating, lightweight, easy-to-use camera that produces excellent images and starts emerging photographers off on the right foot. Immediately, photographers will take notice of the camera's Optical Image Stabilized kit lens for crisp focus, compensating for camera shake from unsteady hands or a moving vehicle.
Nikon, Pentax and Sony also offer attractively priced DSLRs for serious amateurs.