If a $2.5 billion loss is progress (even if it's half the $5.1b loss of Q1), then our greedy desi butcher and Citigroup CEO Vikram Pandit uses a different dictionary from the rest of us.
This morning struggling financial services giant Citigroup announced a loss of $2.5 billion for its second quarter ended June 30, 2008.
And how does our desi butcher see it:
We continue to demonstrate strength in our core franchise. We cut our second quarter losses in half compared to the first quarter….While there is still much to do, we are encouraged by our progress (emphasis added) in delivering on our commitment to the re-engineering efforts.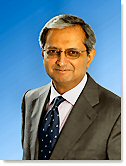 Vikram Pandit
CEO, Citigroup
Since taking over as CEO, Vikram Pandit has been butchering Citi jobs even as he feeds pig-like at the trough.
And yes, Citi has closed the Old Lane hedge fund that got Vikram Pandit his job at Citi following the fund's mediocre performance.
The New York Times reports that Citi has shed 14,000 jobs this year.
Citi has acknowledged sending home 11,000 employees in the first half of this year in so-called reengineering efforts.