comScore confirms what we suspected all along – Microsoft search sites are a complete disaster in India.
In comScore's June 2008 study of the online search market in India, Microsoft sites accounted for a tiny and irrelevant 1.7% share of searches in June 2008.
Microsoft had to suffer the ignominy of coming in No-4, behind even Ask.
Google sites commanded the majority of searches conducted in the country -81.4%.
Yahoo sites came in at No-2 with a 9.4% share of searches.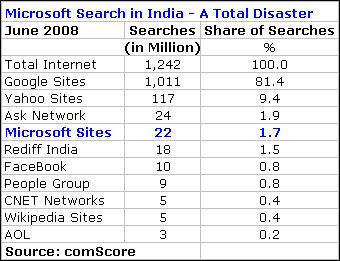 According to comScore, Google Sites ranked as the top search property in India with over one billion searches conducted in June, representing 81% of the market.
Microsoft sites still pull up some of the most irrelevant results for some of the simplest queries.
Forget overtaking Google, there's just no way Microsoft is even going to be able to narrow the enormous gap between itself and Google.
Time for Microsoft to stop throwing good money after bad and throw in the towel.
The search game is over and Google has ground Microsoft into the dust.
comScore also found that India shows less frequent search behavior than its global counterparts.
In a comparison of 37 countries, India ranked second to last with 53 searches per searcher during the month, well below the worldwide average of 93.
The study also found that India had significantly fewer search visits per searcher (14.7 vs. 23.6) and searches per search visit (3.6 vs. 3.9).