Canon has rolled out EOS 50D, the successor to the popular EOS 40D digital single lens reflex (DSLR) camera.
The new EOS 50D offers 15.1 megapixel resolution and features Canon's new DIGIC 4 image processor.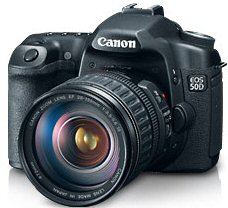 Canon EOS 50D

Other highlights of the EOS 50D include:
* 6.3 frames per second (fps)
* ISO speeds from ISO 100 up to ISO 3200 in 1/3-stop increments plus two high-speed settings – H1 and H2 – of ISO 6400 and ISO 12800 respectively
* Three-inch LCD screen featuring 920,000 dot/VGA resolution and Live View
* HDMI output to display images on a HD TV
* New Creative Auto mode to give more flexibility to advanced amateurs
* Integrated cleaning system
* Two smaller RAW formats besides the regular RAW and JPEG formats
* Compatible with Canon EF and EF-S lenses
EOS 50D is set to ship in October delivery and will cost $1,400 for a body-only configuration.
Price for the kit version with Canon's EF 28-135mm f/3.5-5.6 IS USM zoom lens is $1,600.
Canon said it would continue to offer the EOS 40D.
In October, Canon also plans to introduce a new EF-S 18-200mm f/3.5-5.6 zoom lens with image stabilization for $700.