The monkeys at Sun Microsystems have done it again. 
According to the IDC Worldwide Quarterly Server Tracker, Sun's server revenues fell 7.2% in the second quarter of 2008.
This makes it the third consecutive quarter that server revenues have declined at this struggling IT vendor.
Even as the worldwide server market grew 6.4% to $13.9 billion in the second quarter, even as IBM grew server revenues 13.8%, even as Dell grew server revenues 14.1%, even as HP grew server revenues 3.1%, Sun's server revenues fell by a whopping 7.2%. Go figure.
Take a look at how badly Sun has fared compared to the server leaders: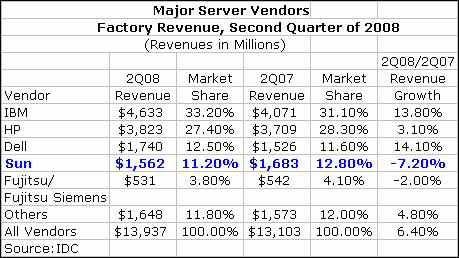 As we've said repeatedly, there is just no hope for the sickman of Silicon Valley – Sun Microsystems.
Shut this ailing company down, fire the bozos and return the money to the shareholders.
Sun's share price on Friday morning (August 29, 2008) fell as low as 8.91, close to its 52-week low of $8.63.
Hey, don't count us among the surprised if Sun's shares hit a new 52-week low.
We could be wrong but we think the crappy Sun stock will soon be a penny-stock trading on the OTCBB or the Pink Sheets.
Other Highlights of the Worldwide Server Business in Q2:
* Linux servers grew 10% year-over-year to $1.9 billion in the quarter. According to IDC, Linux servers represent 13.4% of all server revenue, up from 9.4% a year ago.
* Unix servers posted year-over-year revenue growth of 7.7% to $4.6 billion with the high-end enterprise segment of the Unix market showing the strongest growth of all three segments (volume, midrange enterprise and high-end enterprise).
* Windows server revenue came in at $5.1 billion, up by a modest 1.7%.
* Although blade server revenue decelerated slightly in 2Q08, year-over-year revenue growth of 40.8% in 2Q08 was the third fastest over the past two years.