Ever since we read John Kennedy Toole's brilliant book The Confederacy of Dunces, we've wanted to visit New Orleans.
We finally got to visit New Orleans earlier this year, about two and half years after Hurricane Katrina basically destroyed the city.
As we pulled into the Ninth Ward driven by morbid curiosity to see one of the areas worst hit by Katrina, the scars of the devastation were still very visible.
To our horror, the whole scene reminded us of a third world country we'd left behind. Not America.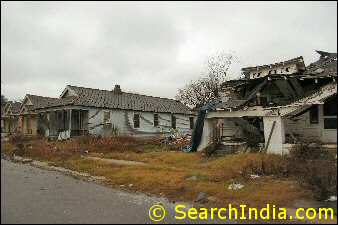 A New Orleans neighborhood in early 2008
Once a colorful and vibrant city, New Orleans is an eyesore now. A blight, actually.
Most homes that were destroyed have not been restored and we found very few people in several neighborhoods.
Even at noon, the New Orleans neighborhoods we were driving through were eerily silent. And hundreds if not thousands were still living in temporary trailer homes.
Louisiana (of which New Orleans is a part) is one of the most corrupt and backward states in America.
Think of Louisiana as the American equivalent of Bihar.
A few years back when the FBI raided a Louisiana Congressman's house, they found $90,000 in his freezer!
Decades of misgovernance and corrupt politicians have destroyed Louisiana and its major cities like New Orleans.
And Mother Nature (in the form of Hurricanes like Katrina and now Gustav) seem to be merely finishing the job that humans started several decades back.
N.B.: The only part of New Orleans that we found to have any charm at all is the old French Quarter.