Nearly two months after Apple launched the App Store for the new iPhone 3G mobile phone and the older iPod touch, games continue to dominate the store.
The App Store, which has been a mega hit with over 60 million downloads (as of August 11), lets iPhone 3G and iPod touch users download applications wirelessly in 19 categories including Games, Business, Entertainment, Reference and Travel.
Take a look at the category-wise availability of application on the Apple App Store: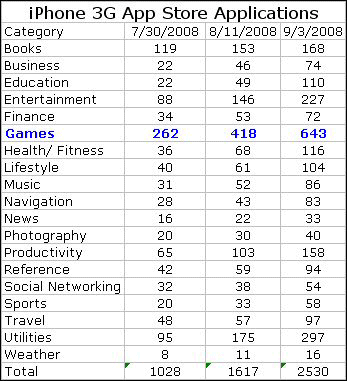 Some of our favorite applications include AP Mobile News, Bloomberg, Yelp, AOL Radio (has two Bollywood stations), Shakespeare and Now Playing (for movie showtimes in the U.S.).
Yes, all the ones we listed above are free.