Citigroup CEO Vikram Pandit disclosed that his pay for 2008 was $1 million in testimony before the U.S. House Financial Services Committee this morning.
Folks, remember Citigroup lost $18.72 billion in 2008 including $8.29 billion in the fourth quarter alone. And fired 73,000 employees.
Vikram Pandit also got about $26.7 million in stock (1.094 million shares) on January 22, 2008, according to the bank's regulatory filings with the Securities and Exchange Commission. The greedy pig also received options on three million Citigroup shares, with strike prices ranging from $24.40 to $36.60.
Besides the hefty $1 million in pay and stock award, there are perks like the private jet and God only knows what else.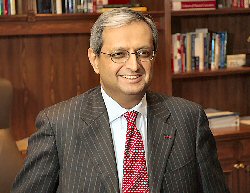 Vikram Pandit – Greedy Desi Pig
Apart from taking home $1 million, which he obviously does not deserve, the only other noteworthy things Vikram Pandit did in 2008 was to fire 73,000 employees and the $50 million jet fiasco. Vikram Pandit seems to have done little else of significance so far.
This morning, Vikram Pandit also declared before Congress that he'd take a salary of $1 with no bonus until the company gets back into the black.
But do not shed any tears for Vikram because he joined Citi in April 2007 after selling his hedge fund Old Lane to Citi for over $800 million. After seeing mediocre returns from Old Lane, Citi shut down the fund in June 2008.
Related Stories:
Obama Says No to Vikram's New Toy
Vikram Pandit Butchers 73,000, Buying $50m Jet
Vikram's Goose Cooked? Citigroup Shares Plunge, Again
Citigroup Shares Plunge 23%; Pandit's Days Numbered?
Desi Butcher Vikram Pandit Massacres 50,000
Vikram Pandit & Shitty oops Citi Shares
Desi Butcher Vikram Pandit Calls $2.5B Loss Progress
Desi Butcher Vikram Pandit's Hedge Fund Screwed
Desi Butcher Vikram Pandit To Fire 9,000 Citi Employees
Vikram Pandit's Citi Loses $5.1b; Revenues Fall 48%
Desi Butcher Vikram Pandit gets $26m
Who is Vikram Pandit?