Worldwide PC shipments (desktops and notebooks) in the first quarter of 2009 were down 7.1% year over year to 63.46 million units, according to the number crunchers at IDC.
IDC said there was a sizable decline in PC shipments in India but did not disclose details. The U.S. market was down 3.1% to 14.96 million units.
Hey, what do you expect. We are going through one of the worst recessions in living memory and consumers just don't have the moolah for anything beyond their mortgage, food and gas.
It's not just consumers. Most businesses (particularly the small and medium sized firms) are not faring well either.
Hard Times for Dell
It was a rough quarter for Dell. No question about it. The company's PC shipments fell nearly 17% to 8.65 million units.
The folks at IDC consider that Dell had a bad quarter across the board. Apparently, a weak commercial market led to faster declines in desktops while Dell's portable sales struggled against the competition and the shift to low priced consumer systems.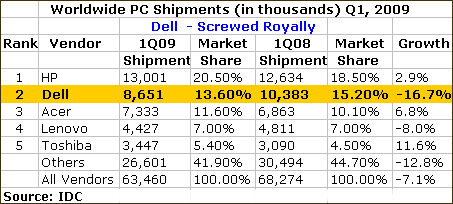 However, IDC sees a silver lining in Dell's recent alliance with Ingram Micro and Tech Data and feels it could pay dividends in short order. 
According to IDC analyst Loren Loverde:
Tight credit and economic concerns have certainly taken a toll on PC shipments in the last couple quarters, but the move to portables, fueled by Mini Notebooks and falling prices, has mitigated the impact. Following a drawdown in inventory throughout the supply chain, we expect more stable production over the next couple quarters, with growth returning around the end of the year.
We do not share the optimism of the IDC analysts.
Consumers in North America (a major market) continue to struggle in the face of layoffs, salary-cuts and fears that their jobs would be the next on the line. And businesses across the board are hunkering down.