Having lived long years here, it's our conviction that conservatives are sick (in the mental and not the health sense) beasts.
So, it's hardly surprising that we are not in love with the late William Buckley, the patron saint of American conservatives.
But Buckley's son Christopher Buckley (a fiction writer unlike his father) is another matter.
After reading glowing reviews in the New York Times and elsewhere, we picked up Christopher Buckley's new book Losing Mum and Pup at our local library yesterday.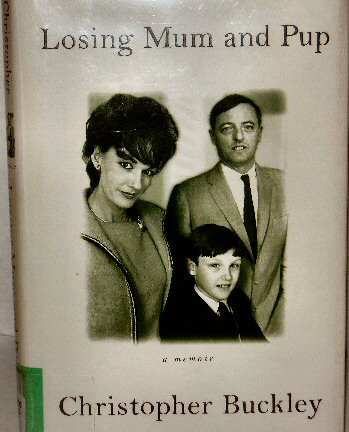 The book is Christopher's rambling account of the loss of both parents in quick succession.
We have read three chapters so far i.e 46 pages and find the book interesting.
Christopher has a very sarcastic pen at his disposal and a nice humorous writing style.
But to desis Christopher's actions in the face of loss can sometime seem downright bizarre and maybe even outright callous.
Overall, time spent reading this book is time well spent.
Given that we find the book charming, we hope to complete it in a few hours.
We may or may not update this post after we complete the book but most likely we will.
Update:
This lovely book on recent orphanhood has whetted our appetite for Christo's fiction work.
By turns sarcastic, humorous and sad, Christopher Buckley's book on the loss of his famous parents with vignettes of their unusual and difficult temperaments from times past is an unputdownable book.