Ponal Pogattum Poda,
Ponal Pogattum Poda,
Indha Bhoomiyil Nilaiyaay Vaazhndhavar Yaaradaa?
Ponal Pogattum Poda
(Source: Palum Pazhamum)
Don't be surprised if you see Tamil Film Walker oops movie star Ajith a.k.a Thala wearing a funereal expression, singing a dirge and out in the market shopping for a long rope.
A thickkk, looong rope for our Thala.
You get the point, right.
Nah?
Madayan, Ajith's latest piece of shit Asal has kissed the dust. The box office dust, that is.
Oh, if you are the finicky, nitpicking kind and insist on specifics, we're talking UK box office here.
Yes, the box office numbers are out and they yield nothing but ignominy for Ajith, the ghost who walks!
Here are the embarrassing facts for Thala:
* Asal has fared worse than Kanthaswamy (Vikram)

* Asal has fared worse than Aadhavan (Surya)

* Asal has fared worse than Vettaikaran (Vijay)
Stop fretting, Thala. You can still pit yourself against the eli kunjis (baby mice) of Kollywood like Simbhu, Vombhu, Kombhu et al and maybe, just maybe, come up tops.
Well, you are no longer in the 2nd tier of Kollywood and your peers now are Vishal, Trisha, Simbhu, Jeyam Ravi, Jeeva et al.
That's the way the cookie crumbles.
Unimpressive Thala
In the opening weekend (February 5-7, 2010), Asal came in at No-19 at the U.K. box office.
The movie grossed a mere £38,809 in the opening weekend. Not in the least impressive.
Asal's average gross was lower than Kanthaswamy, Aadhavan and even that nightmare Kuruvi but slightly higher than Vijay's recent Vettaikaran.
Here's how Asal fared at the UK box office compared to a few prominent Tamil movies at the UK box office: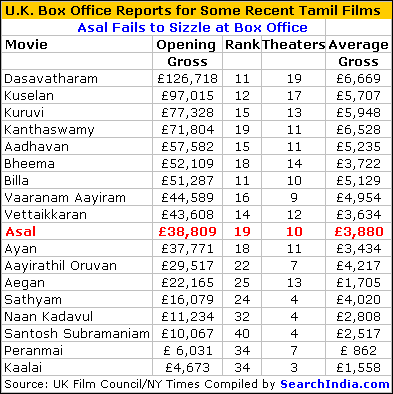 By the way, here's an excerpt from the review of Asal published on the SearchIndia.com blog:
The story itself, despite having that flogged-to-death look about it, could have still been made into a good film had it not been subject to Tamil filmdom's peculiarities.

The need to have half-a-dozen villains so that the hero can be shown more powerful, the requirement to have at least two heroines to offer viewers some eye-candy, the obligatory 5-songs-5-fights routine (which sticks out like a sore thumb here) and an entirely unnecessary and irritating comedy track; all these collude to make the film as unwatchable as possible.

….Ajith, as usual, walks hither and thither foolishly, wearing those sunglasses. He has given up trying to do this acting thing (probably realized that was not up his alley).
Related Links:
Asal Review – Folks, Show the Middle Finger